Description
4 Port HDMI Splitter 3D Output
Our 4 Port HDMI Splitter is the easiest method to duplicate a 1080P HDMI signal onto four separate displays. The output from this device supports resolutions up to 1080p with audio support as well. Installation is easy, with no software required. Simply plug in your HDMI source to the front (DVR, etc.) and then your two displays in the two outputs supplied in the back. Ver 1.4 Certified for Full HD 1080P. We also carry 4 channel and 8 channel HDMI Splitters so you can view your DVR's Security Camera Images from up to 8 different locations!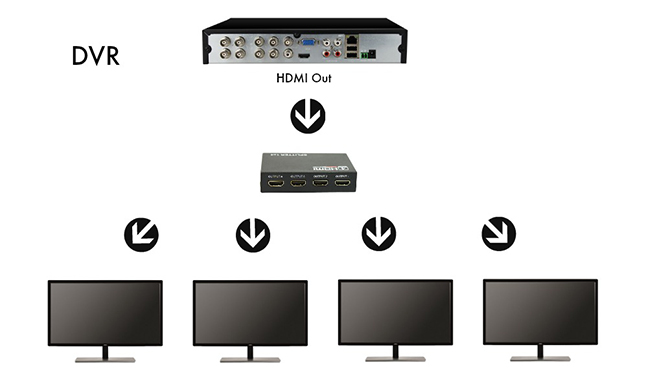 Features
Duplicates one HDMI source to 4 displays
Supports resolutions up to 1080p – high definition
Supports 3D
Easy installation; plug and play
1 HDMI female input to 4 HDMI female output
Ellipse Quality Guarantee
Two Year Warranty
Free Lifetime Technical Support
Not Sure About Your Product or Compatibility? Ask an Expert!