Description
NOPEN-4GB-B Night Owl Color Covert Spy Camera Pen Recorder
Night Owl's Executive Covert Spy Camera Pen offers its users the ability to record video (640 x 480), audio (20ft away) and take notes simultaneously. The handsomely designed retractable ballpoint pen has a black finish with silver plated accents. However, unlike a Mont Blanc our pen also includes a compact camera which can record up to 90 minutes of video with audio. With 4GB of internal memory, files can be transferred by easily unscrewing the pen and inserting the pen USB directly into your computer. The pen is compatible with both Windows and MAC computers and includes 3 additional black ballpoint ink refills.
USB Backup
The Night Owl Camera Pen is fully compatible with Windows XP, Vista and 7 and Mac OS X and once recorded, files can be played back on all the popular video playing software formats including Windows Media Player, Quick Time, Real Player, VLC, WinDVD and PowerDVD.This 4GB Mini Video Camera & Recorder is perfect for business meetings, classes, personal notes, recording musical performances, interviews, recording lectures, covert surveillance, family events, parties, home movie making and more. The pack includes 3 black ballpoint ink refills and everything you need to get started at the push of a button.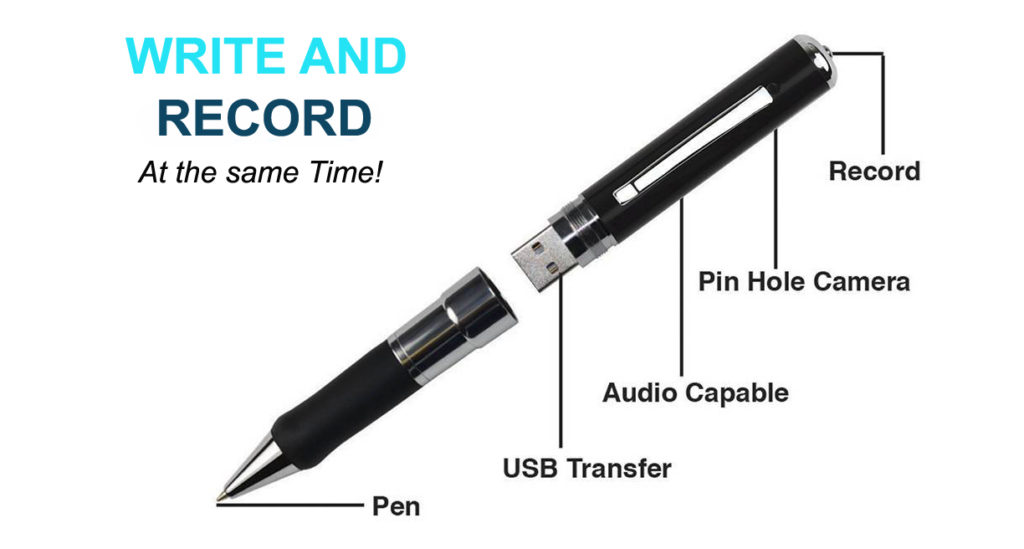 Key Features:
PC and MAC Compatible
Easily Transfer Files to your Computer via USB
Record up to 2 Hours of Video / Audio
Audio Recording from 20 ft away
Retractable Black Ballpoint
Pre-installed 4GB of memory
Video Resolution: 640 x 480
Video Format: AVI
30 Frames Per Second Recordings
Lithium Rechargeable Battery
Dimensions (in): 5.8 x 0.6 x 0.6
Weight: 1.3 oz
Package Contents:
NOPEN-4GB-B Surveillance Camera
3 x Black Ink Refills
3ft USB Charging Cable
User Manual
Platform Supported:   Mac
Platform Supported:   PC
Manufacturer Warranty: 1 YEAR
*Disclaimer
By purchasing this item from our website, buyer agrees to use the device in a manner consistent with, and according to, all Local, State and Federal laws governing covert surveillance devices and operations. Ellipse Security, Inc., its agents, and its representatives, can not be held liable for use that is not in accordance with applicable laws.
1 YEAR Manufacturers Warranty
Free Lifetime Tech Support
Money Back Guarantee
Not Sure About Your Product or Compatibility? Ask an Expert!