Description
SAS-5844B STOiC Technologies 5MP HD 8 Channel Security Camera System
Stoic Technologies Commercial Grade, 5MP HD Security Camera System
Better Performance, More Features, Unparalleled Support   


This STOiC Technologies 5MP HD 8 Channel Security Camera System is a commercial grade, professional quality system. Stoic XVR's deliver superior 5MP HD Recording and Hybrid support for AHD, TVI, CVI, CVBS and IP Formats. The Cameras are IP66 Weatherproof so they can be mounted indoors or outdoors without worry. The SAS-5844BD comes with a mix of (4) Bullet Style Cameras and 9$) Dome Style Cameras for maximum flexibility. The STH-B5XC61W Bullet Style Cameras feature SMART IR for better Night Vision Images and night viewing up to 82 Feet in total darkness! The STH-D5XC61W Turret Dome Camera have 70 feet of night vision and are small enough to be used in office environments or inside homes. This 5 Megapixel System comes with (8) 5MP HD Weatherproof Cameras Toatl and (8) 60 Foot Plug and Play Cables. Longer Cables are available here: Premium CCTV Cables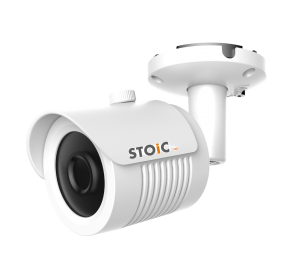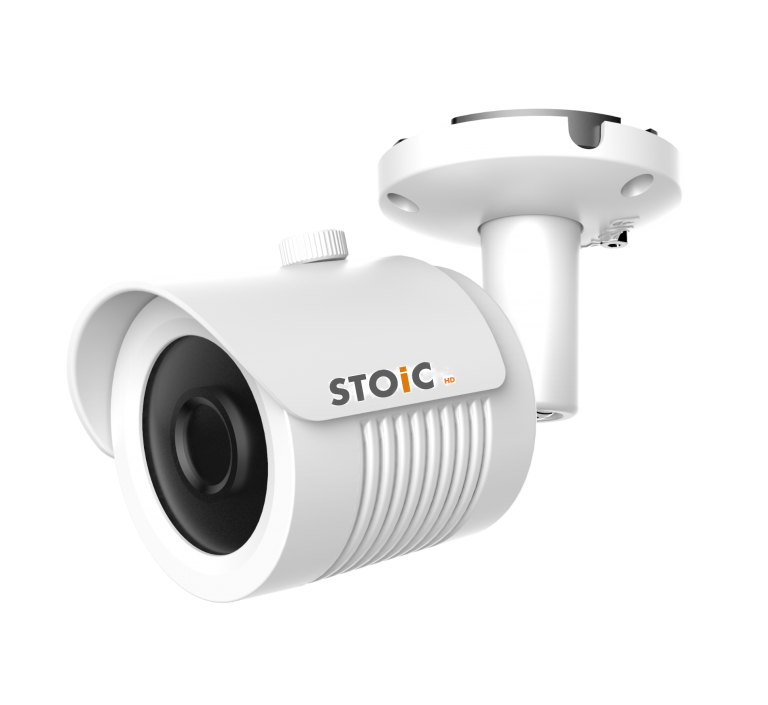 The STH-B5XC61W Weatherproof Cameras have a 'Through the Bracket' Cable so cables can be completely hidden from view. The bracket can be rotated in all directions so the camera can be mounted from the top or bottom or at an angle. This Bullet Style Camera features up to 82 Feet of Night Vision and SMART IR for better Night Vision Images.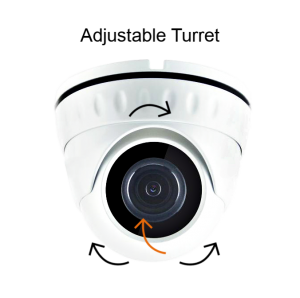 The STH-D5XC61W Weatherproof Dome Camera has a 'turret' that can be swiveled in just about any direction when mounting. This allows for mounting in almost any configuration whether wall, ceiling, top or bottom. The camera is metal construction and has up to 70 Feet of Night Vision.
View From Anywhere! 
Stoic Technologies HD 5MP Security Camera Systems are 100% Mac and Windows Compatible. Remote Viewing is easy with iPhone, iPad, Android and features Live Search and Live Audio over your mobile device. The Stoic XVR can send motion alerts to your mobile device so you never miss a thing! Bitvision, the remote viewing app is Free from your app store. With the FREE BitVision remote viewing app, you can stay connected to everything that matters most!
More Options and Features!
STOiC Technology DVR's are professionally featured and are also referred to as XVR's due to their cross compatibility with all HD CCTV Formats. These Security DVR's support AHD, TVI, CVI, CVBS and IP over Coax. All STOiC Systems come with a 3 Year Manufacturers Warranty and FREE Lifetime Technical Support. UTC (Up the Coax) Support means that you can control UTC supported cameras such as PTZ's from the XVR without having to run an extra RS485 Cable.
Our Stoic Technologies Security Camera Systems are user friendly, and come with 100% USA Technical Support. If you are looking for a Commercial Grade HD CCTV System, Stoic Technologies is the perfect choice!
Learn More about the Bitvision Remote Viewing App
Main Features:
5MP Super HD Resolution Images
265+, H.265, H.264+, H.264 Compression
Email Alerts, Motion Detection
View from Anywhere with Free BitVision App
IP66 Weatherproof Cameras
SMART IR
82 Feet Night Vision
RS485 Communication Port
HDMI and VGA Outputs
UTC Supported
4 Channels Audio
Surveillance Class Hard Drive
3 Year Warranty
WHY Choose STOiC?
View From Anywhere
With the FREE Bitvision Remote Viewing App available for iOS and Android. Never miss a thing! Bitvision offers easy connectivity and is a full featured remote application. Switch between cameras, take a screen shot or use PTZ controls (With PTZ Camera). You can view both live and recorded images. There are NO Monthly Fee's or additional charges for the App!
Bitvision for PC / Mac / iPhone / iPad / iOS / Android
PC/Mac: Bitvision     iOS: Bitvision     Android: Bitvision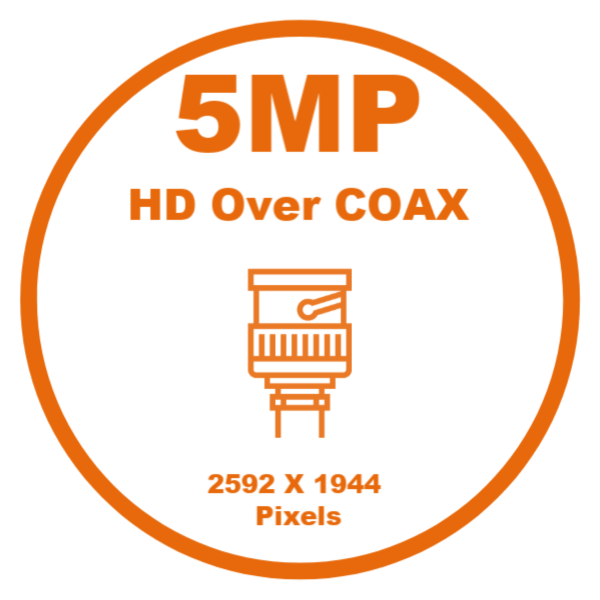 Superior Image Quality
Stoic Systems incorporate the Highest Resolution Available in advanced HD Surveillance with 5MP Images. Enjoy crystal clear images Day or Night with our Smart IR Equipped Cameras. The 5MP Images deliver stunning clarity and the highest quality video.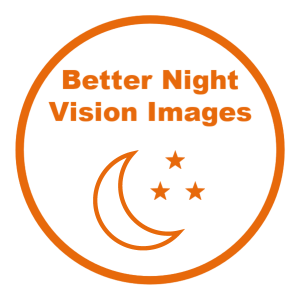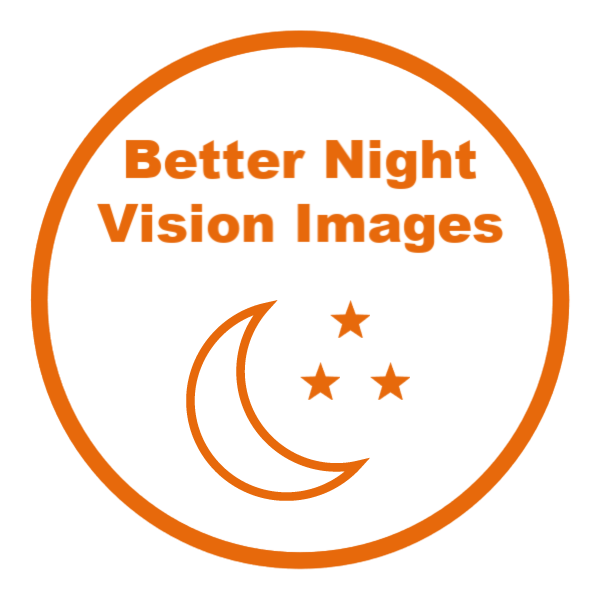 Better Night Vision with SMART IR
Stoic Technologies Camera come equipped with SMART IR for superior Night Vision Images. SMART IR improves picture quality in IR Mode and eliminates the graininess associated with other IR Cameras. Detailed images are extremely important, especially at night.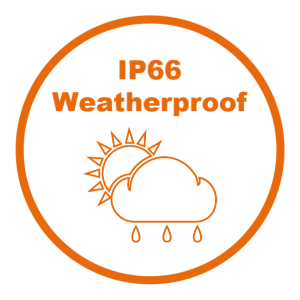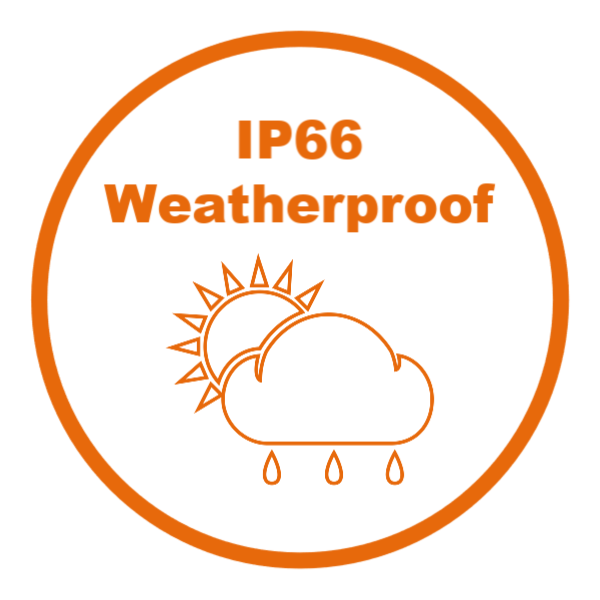 Weatherproof Cameras
Stoic System Cameras are IP66 Weatherproof Rated for Outdoor or indoor use! Place your cameras where they are needed most without concern for weather. Stoic 5MP Cameras are built with a Metal Housing and built to last unlike many plastic cameras on the market.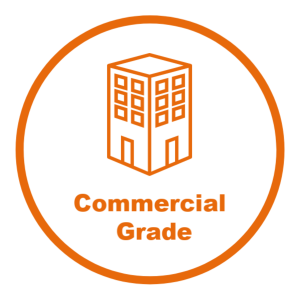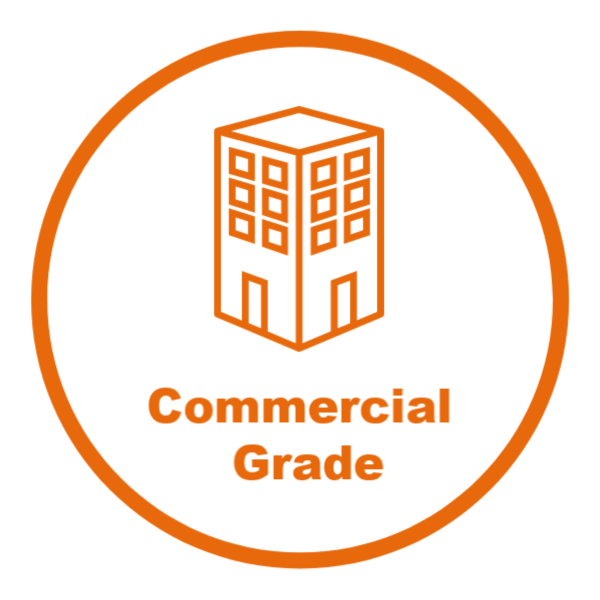 Commercial Grade
Stoic HD Systems use Commercial Grade XVR's and Cameras for to deliver high performance and reliability in a surveillance system. That is why our warranty is 3 times as long as most other systems.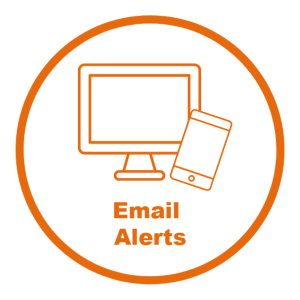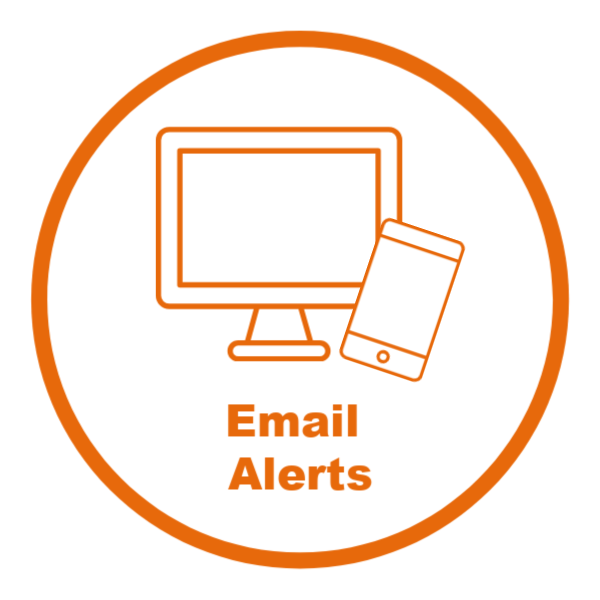 Email Alerts
Get notifications no matter where you are! Cameras can be individually set to send an email when motion is detected. On the go? Don't worry, you can set notifications from your Stoic DVR based on motion events. Never miss a thing with motion alerts!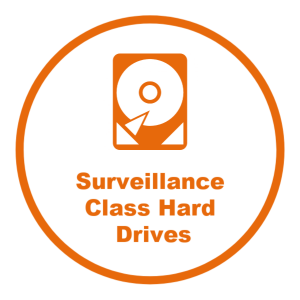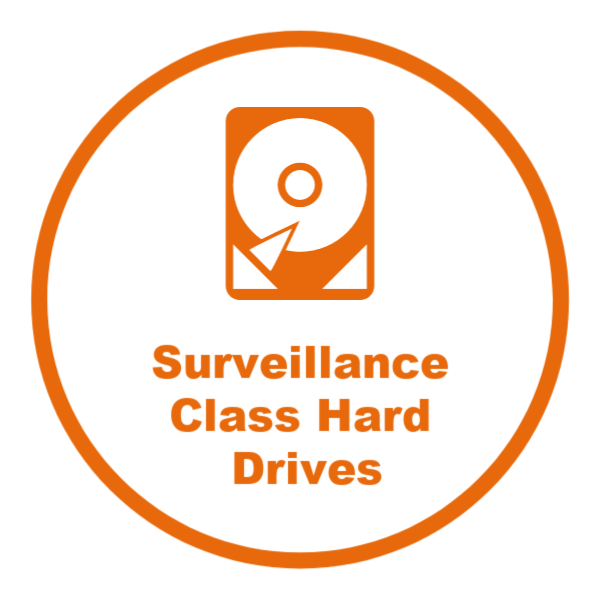 Surveillance Class Hard Drives
All Stoic XVR's and NVR's come standard with a Surveillance Grade Hard Drive* Hard Drive size is customizable up to 16TB. Surveillance Class HDD's are designed  specifically for the Surveillance Industry to meet the challenges of HD Video Storage. Don't accept anything less. We use both WD Purple and Seagate Sky Hawk Hard Drives.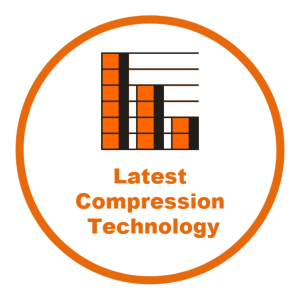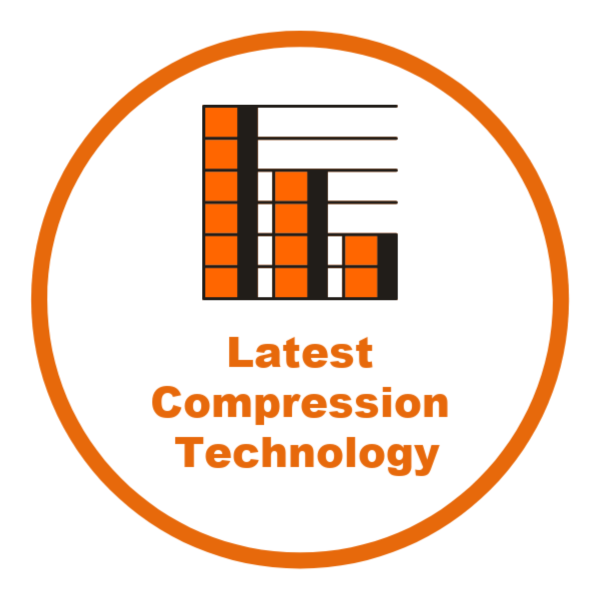 H.265+ Compression
All Stoic XVR's use the latest H.265+ compression technology. H.265 and H.265+ allow more video to be stored in a smaller amount of space without sacrificing quality. This will maximize your Hard Drive space and deliver more video storage! Compatible with H.265+, H.265, H.264+, H.264. In addition, Stoic XVR's can be set to record on motion only, by event, or 24/7.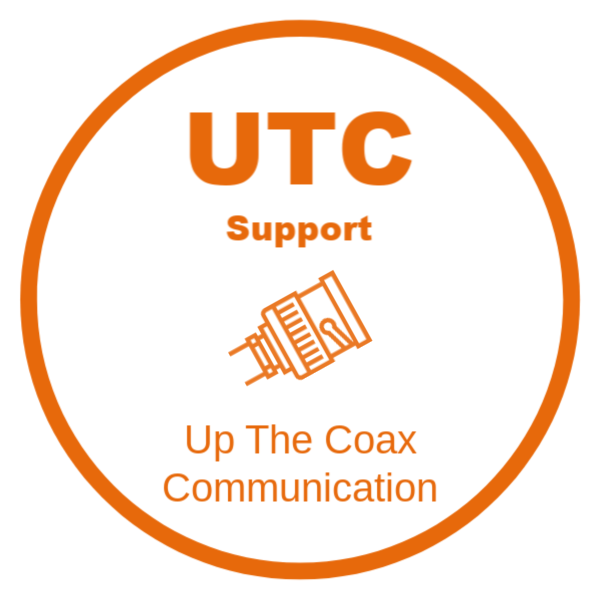 UTC Compatible
All Stoic XVR's are UTC Compatible. UTC or 'Up The Coax' allows for communication between the camera and the XVR without having to run an extra communication cable. This is especially useful when using a PTZ Camera or Motorized Zoom Camera with your system. Also, when using legacy Coax Cable that is already in place, installers can deploy UTC supported Cameras and PTZ Cameras without the time and expense of running new or additional cables.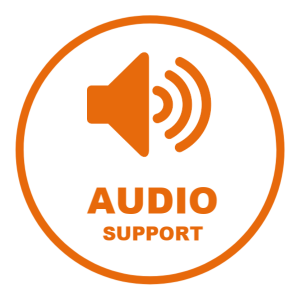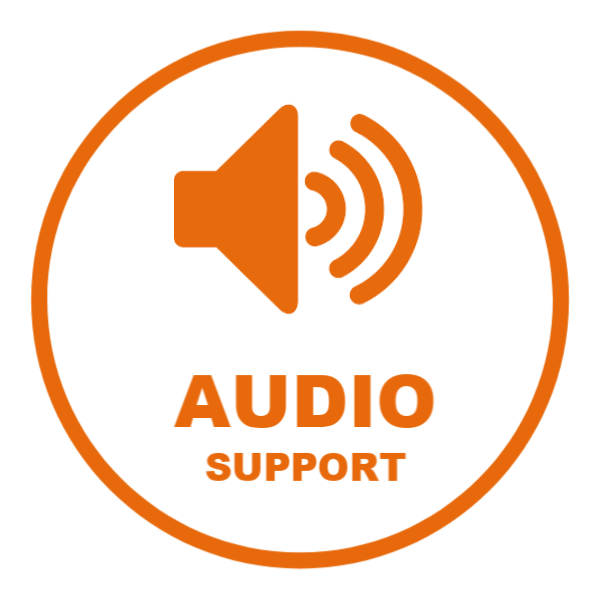 Audio Capable
Stoic XVR's have Audio Inputs so you can add a Microphone or Camera with Audio to your system. (Microphone not included standard) *Make sure to check your state and/or local laws regarding Audio Surveillance before installing or recording Audio.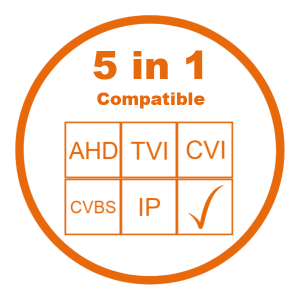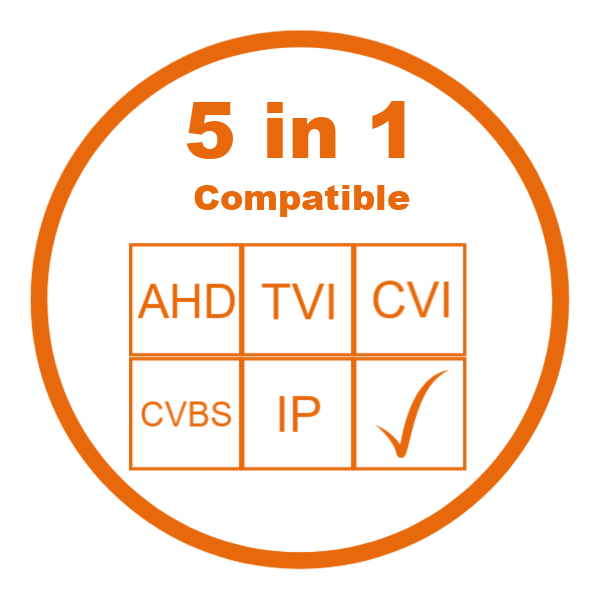 Hybrid 5 In 1 Compatible
Stoic XVR's support all main HD Formats including AHD, TVI, CVI as well as Analog CVBS. If you have HD Cameras that are 2MP, 4MP or 5MP, they will work with the Stoic 5MP XVR. In addition, the XVR will support IP Cameras up to 8MP.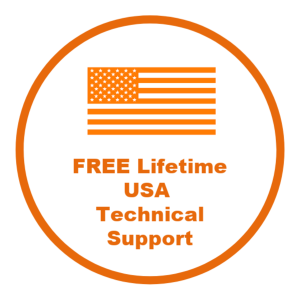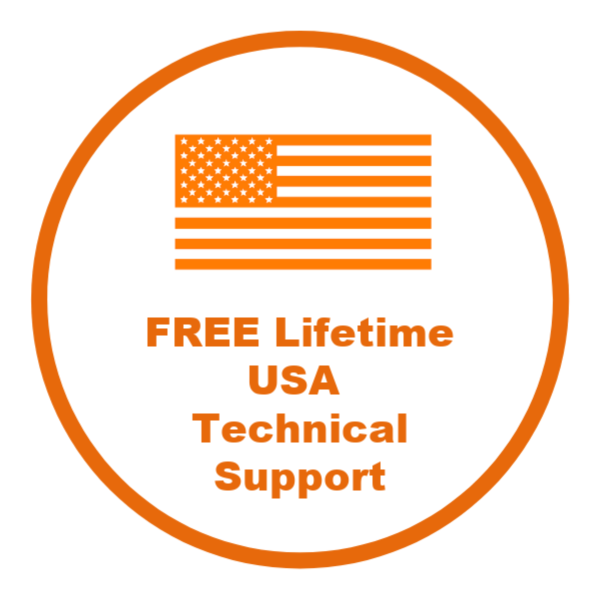 Free Lifetime Technical Support in the USA
All Stoic Technologies Systems, Cameras, XVR's and NVR's come with automatic Free USA Lifetime Technical Support. Technical support is performed in the US with live technicians.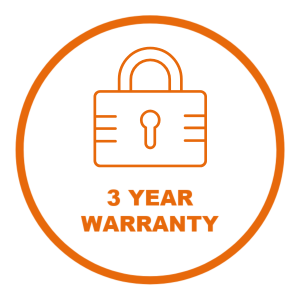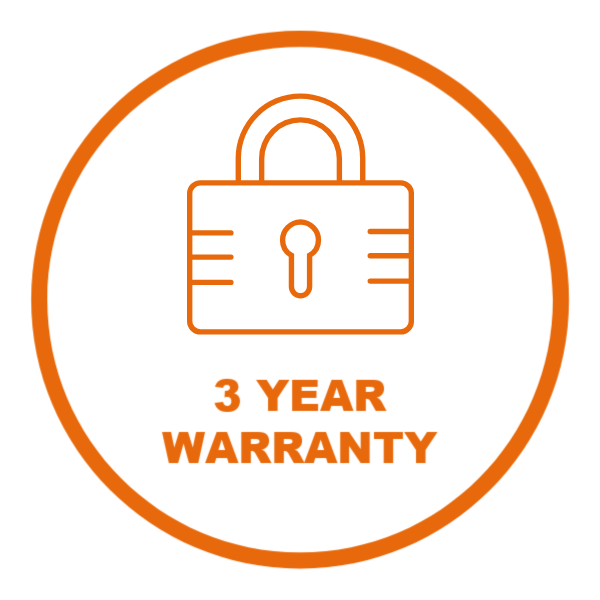 3 Year Warranty
Stoic Technologies offers a 3 Year Warranty on all products so you get the extended protection you need! It's included! That's 3 times the coverage most systems offer.
Package Contents:
(1) SAS-XVR5800 Stoic 8 Channel 5MP XVR with 2 TB HDD* (Upgradeable to 8TB)
(4) STH-B5XC61W Stoic 5MP Weatherproof Bullet Style Camera
(4) STH-D5XC61W Stoic 5MP Weatherproof Dome Style Camera
(8) 60 Foot Plug and Play Video Power Cables
(1) DVR Power Supply
(1) 8 Channel Camera Power Supply
(1) Accessory Kit
---
Learn More about Bitvision Here
Read our post about why Your Business Deserves Better
And why you should not buy a system from the Big Box Stores!!
Why Hard Wired Systems are better, and more reliable than the Wireless Systems:



Stoic 5MP HD Systems are hard wired for maximum reliability. Why is that better than wireless cameras or Wifi Cameras? Here are a few reasons for choosing a hard wired system if you are looking for a reliable, long term surveillance system.
Cameras that are hard wired (Connected to the DVR with a video cable) provide images nearly 100% of the time while Wireless Camera Images may cut in and out, or disappear altogether with the slightest interference. Yes, running cables is more involved than hooking up some Wifi Cams, but the long term result is well worth it.
Stoic Systems come with Siamese type cables that carry the Video and Power back to the DVR location so everything is powered in one place. Direct power also eliminates problems such as changing out batteries. If you need 4, or 8 cameras or more, imagine climbing up on that ladder and changing the batteries every few months or less.
With Stoic Hard Wired Systems, all images are recorded to an XVR (DVR) so you can review at any time. Depending on HDD size, you can record for up to 4-6 weeks at a time. With Wifi or Cloud cameras, images are either not recorded at all, or only recorded in a clip when motion is detected. This makes viewing and storing video rather inconvenient.
True wireless cameras (Cameras powered by battery) do not have enough power to deliver any significant night vision images. In fact, most IR ranges are 15 feet or less. With Stoic XVR systems, you get 60-90 Feet of Night Vision from the Cameras. Since most things happen at night, wouldn't you want a camera that has a strong Night Vision capability? We thought so.
Your Stoic System will still be recording, even if your internet goes out. If your Wireless Cameras are dependent on your Wifi Router, they will go out when your internet is down as well.
Any Questions? Give us a call at 877-880-7728. We Love to talk to people about Security Cameras!
Compatible Cameras: STOiC Technology 4 in 1, Samsung, Tru View 4 in 1, AHD, TVI, CVI, CVBS, Up to 5 Megapixel
5MP HD Recording over RG59/RG6 Coax (BNC)
VIEW FROM ANYWHERE!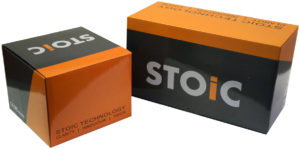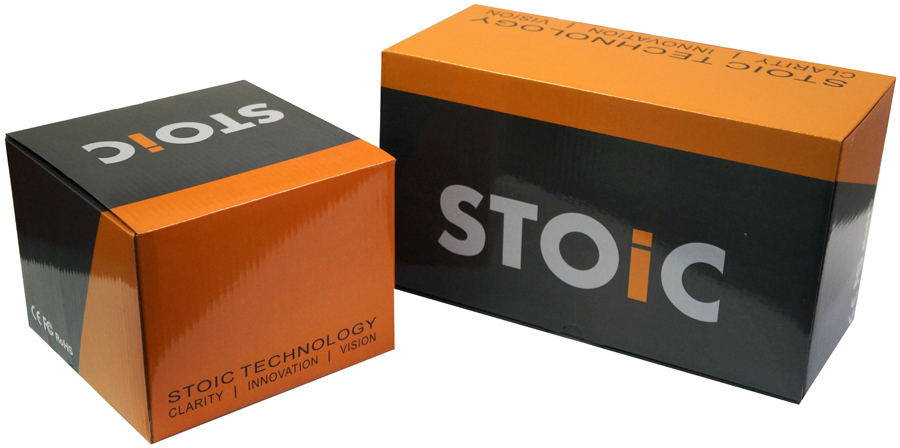 STOiC Technologies CCTV Systems can be customized, personalized and reconfigured to fit your needs! Build the perfect Security Camera System for your application! Industry Leading 3 Year Warranty. We are a STOiC Technology Master Distributor and support all STOiC Systems with FREE Lifetime Technical Support! Call us Toll Free at 877-880-7728. 
Surveillance Class Hard Drives

---
Three Year Manufacturers Warranty
Free Lifetime Technical Support
Ellipse Quality Guarantee
Not Sure About Your Product or Compatibility? Ask an Expert!