Description
Simply45 Professional Lan/Category Cable Stripper & Cutter – Adjustable for Cat7A, CAt 6A, Cat6 & Cat5E (YELLOW)
Adjustable LAN Stripping Tool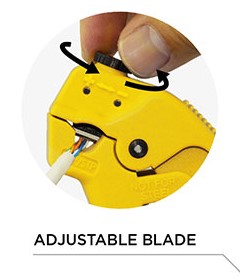 SIMPLY45-STRIP-YELLOW
SIMPLY45™ Stripper is a patented easy-to-use professional LAN cable stripper that is adjustable to correctly strip UTP/STP copper cables including Cat5e, Cat6, Cat6a & Cat7a.
This Adjustable LAN Stripping Tool is a Must-Have for every integrator's tool kit.
SIMPLY45 is Simply Better Quality, Simply Easier to Use & Simply More Affordable.
USA Designed, TAA Compliant

Ellipse Quality Guarantee
Limited Lifetime Warranty
Not Sure About Your Product or Compatibility? Ask an Expert!