NDAA Compliant Products
These IP Cameras, NVRs and DVRs are 100% NDAA Compliant Products. If you have heard about the USA 'Blacklist' for products such as Hikvision, Dahua and Huawei, then you have probably considered looking IP Solutions that do not use the Huawei Chip Set. We have a complete line up of NDAA Compliant Cameras and NDAA Compliant NVRs. In addition, we are adding new models every day so please keep an eye out for additional options coming soon.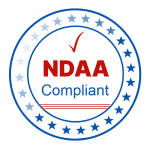 What is NDAA Compliance? In short, John S. McCain National Defense Authorization Act (NDAA) for Fiscal Year 2019 was signed into law in August of 2018 and subsequently NDAA 2020 for this year. The law, specifically Section 889, prohibits federal agencies, their contractors and grant or loan recipients from procuring or using "telecommunications and video surveillance equipment or services" from specific Chinese companies as a "substantial or essential component of any system, or as critical technology as part of any system." The NDAA ban includes telecommunications equipment produced by Huawei Technologies Company or ZTE Corporation, as well as video surveillance and telecommunications equipment produced by Hytera Communications Corporation, Hangzhou Hikvision Digital Technology Company, or Dahua Technology Company.
If you have any questions regarding NDAA Compliance, give us a call at 904-996-0061. You can also check out our blog: