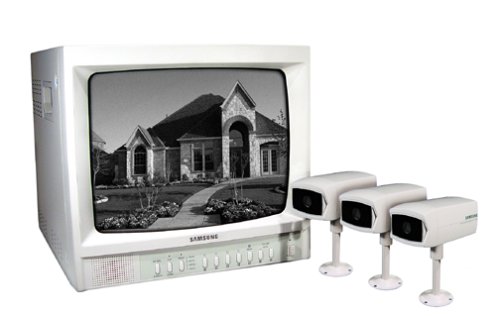 Ellipse has been a stocking distributor for Samsung (now Wisenet) Home Security Priducts and DIY (do-it-yourself) security systems for over 14 years. Over this time, Samsung security camera systems have changed dramatically, as has the industry in general. A brief (very brief) history is in order to truly see how far we have come since the first Samsung, Black and White CCTV systems came out back in early 2002-03. Back in 2003, systems were bulkier, less robust, and only available in standard resolutions. In those days, VCRs were still common for CCTV storage, and the DIY security camera systems were called "Observation Systems". If you wanted to record activity, you could add a VCR to your package (don't forget the tapes!).
Among the very first Samsung DIY systems was the SSC-12. This 4-channel, black and white CRT monitor was a switching system, meaning you could only view one camera at a time. Recording followed suit on these systems, since VCRs were only single channel. This was eventually followed by the SOD14C4LN. Perhaps the most popular of the early DIY systems. Theese systems utilized an RJ11e type cable to transmit video, power, and 2-way audio over a single cable.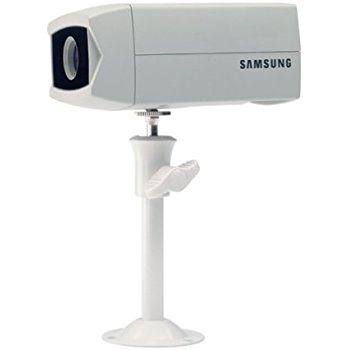 The SOD14C4LN and SSC-17 were the first "Dual-Quad" systems available. And continued to use Samsung's proprietary RJ11e cable. It was during the period that Ellipise Security came out with the first RJ11e to BNC adapter, so customers could add BNC Security Cameras to their RJ11e Systems as well as adapting their RJ11e cameras to BNC systems. From there, the systems evolved to employ web servers inside the monitors ,for viewing over the web. Systems such as the SSC-14WEB and SSC-17WEB allowed viewing over the Internet, but still required a VCR or single channel DVR in order to record.
With the introduction of the DVR (Digital Video Recorder), remote viewing moved from the monitor to the recording device. Early Samsung DVRs, such as the SHR-1014 were single channel and came with just a 60gig hard drive. Samsung DIY systems started to become "All-in-One", with the DVR, web server, and power integrated into the monitor. The SMO210DN was an 8 channel CRT monitor with a built-in DVR. However, the monitor was extremely heavy (about 70lbs with a 21″ screen). Shipping these systems proved to be difficult, as they were oversized and very easily damaged.
Samsung took a giant leap forward with the SMT-190DN system. This system featured a 19″ LCD monitor with a built-in 8-channel DVR. It also included remote viewing and still utilized the RJ11 cable and cameras. Systems have also evolved from the first SSC12 and SOD14C cameras to more sophisticated SOC-C120 and SOC-N120, which incorporated night vision LEDs for the first time.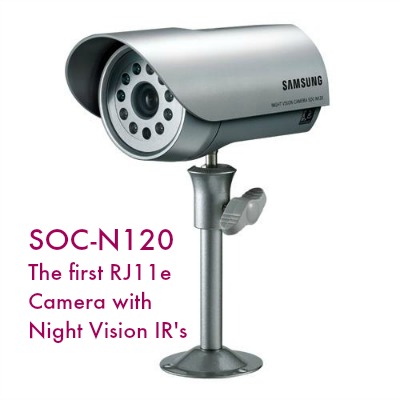 The All-In-One trend continued with the introduction of the SME-2220, SME-4221, and SME-4220 systems. But Samsung began experimenting with new cabling options. These systems, along with the SDE-120N and SDE-300N, began using the 6-pin mini din cables for video and power. The SOC-A100 and SOC-A101 cameras used with the 6-pin mini din systems were higher resolution (600TVL), and better night vision. Although the All-In-One systems were popular, these would be the last of the models with the DVR built into the monitor.
Samsung's next offering turned out to be a popular one. In addition to going to a stand-alone DVR and no monitor, Samsung chose to go ot RJ-45 or UTP cabling for their DIY systems. The SDE-4001 and SDE-5001 systems were 8 and 16 channel systems, respectively, and came with several variations of bullet style (SEB-1005) cameras and dome style cameras (SEB-1001). The DVRs were internet accessible and came with a 1TB hard drive. Although the system used RJ-45 cable, they remained analog systems. RJ-45 cable was easy to find, and the systems were popular since many homes and small businesses already had RJ-45 cabling in place. It was at this point that Ellipse Security began to sell the PTBNC-400 for adapting RJ-45 to BNC.
Eventually, however, Samsung decided to go to using common Coax cable (BNC). Systems like the SDS-P5100, SDS-P5122, and the SDS-P5102 were 16 channel systems that used BNC cable. The SDS-P4080 and SDS-P5080 were the 8 channel counterparts. Night vision capabilities and resolutions continued to improve, first with the SDC-5340BC, and then the SDC-7340BC security cameras. At this point, resolutions were up to 720TVL.
The next evolution in Samsung DIY followed the industry's push into HD Analog technology. Beginning with the 720p SDH-C5100, and the SDH-B3300. The SDC-8440BC cameras included were capable of 720p HD resolution, and still used BNC cables. Shortly thereafter, the 1080p Full HD versions came out. The SDH-C75100 (16ch), SDH-C75080 (8ch), and SDH-C73000 (4ch) deployed the SDC-9441BC camera with 1080p resolution and 82ft of nightvision.

Which brings us to the current offerings available to small businesses and homeowners today. 2MP systems, and brand new 4MP Super HD systems are cost effective and deliver HD resolution, siginificant night vision, and storage up to 2TB included. The SDH-C75083 is a 16 channel system that incorporates a metal-housed, SDC-9443BC camera with excellent night vision quality. Its 8 channel versions include the SDH-C74083HFN and the SDH-74043, which are expandable up to 8 cameras. The newest of the Samsung Wisenet systems are available in 1440p resolution (4MP). The 16 channel version, the SDH-C85100, comes with 10 of the new SDC-89440BC cameras. These cameras are IP66 rated, and boast 82ft of night vision. The 8 channel 4MP systems, the SDH-B84040 and SDH-B84080, comes with 4 and 8 cameras, respecitvely.
At Ellipse Security, we continue to stock and support all of the latest Samsung Wisenet security camera systems and accessories. As a Samsung authorized distributor for over 14 years, we have the most extensive knowledge base and support for Samsung DIY systems available. We continue to be a partner with Samsung, and a leader in the DIY CCTV market.
Questions? Want to know moew or have an older Samsung System that needs upgrading? Call us Toll-Free at 877-880-7728!
We Love to Talk to People about Security Cameras!