IK10 Impact Ratings for Security Cameras
Have you been asked to find an IK10 Rated Security Camera for a project? If so, you may have wondered "What Exactly is IK10?" Since we carry several IK10 Security Cameras, we have been asked this question numerous times and decided to dedicate a post to briefly describing what the IK10 rating is, and what benefits there are to using Cameras with the this impact rating.
Impact Protection (IK) Rating: Degrees of protection provided by enclosures, for electrical equipment, against external mechanical impacts in accordance with IEC 62262:2002 and IEC 60068-2-75:1997.
Impact protection ratings can be extremely important when deciding which Security Camera models to deploy in a surveillance application. Not all environments are created equal, and of course, not all Security Cameras are created equal, especially in regards to Impact and Ingress Protection. In addition, you may also have a written spec for a job that requires meeting this standard. In this article, we will specifically discuss the Impact Protection standards, or IK Ratings, as they relate to Surveillance Cameras. If you would like to know about Ingress Protection, or IP Standards, you can read our other article here.
CCTV applications where Cameras are mounted in areas subject to vandalism and higher than normal abuse should look to higher standards of impact protection. Installing an expensive IP Camera that gets damaged by a rock or other projectile can be frustrating and costly for you and your client. Before offering a quote, look for an IK10 rated Camera, such as the IPC3238SR3-DVPZ from UNV. IK10 Rated IP Cameras can stand up against external abuse and vandalism better than your standard out door camera because IK10 is the Highest Standard of Impact protection available in Security Cameras.
What is IK10?
The Impact Rating of an electronic device is measured by Impact Energy or (Joules) it can absorb. Many of you may have heard of this term used for other devices as it is a relatively common term in some industries. Many products have ratings measured in Joules, which is essentially Energy Absorption/Dissipation. The number of Joules of Impact converts to a Standardized Terminology that becomes the IK Rating for a given device. For example, a device that can absorb 20 Joules Impact is rated IK10. This applies to Security Cameras as well. You may want to inspect the chart below for a clearer picture by comparison.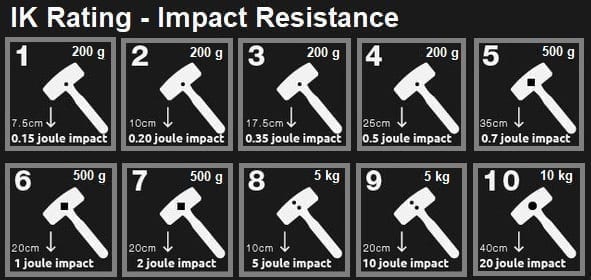 Here is some additional (More Technical) Information from Wikipedia:
[The European standard EN 62262 — the equivalent of international standard IEC 62262 (2002) — relates to IK ratings. This is an international numeric classification for the degrees of protection provided by enclosures for electrical equipment against external mechanical impacts. It provides a means of specifying the capacity of an enclosure to protect its contents from external impacts. The IK Code was originally defined in European Standard BS EN 50102 (1995, amended 1998). Following its adoption as an international standard in 2002, the European standard was renumbered EN 62262.
Before the advent of the IK code, a third numeral had been occasionally added to the closely related IP Code on ingress protection, to indicate the level of impact protection — e.g. IP66(9). Nonstandard use of this system, was one of the factors leading to the development of this standard. IK uses a separate two numeral code to distinguish it from the old differing systems. The standard came into effect in October 1995 and conflicting national standards had to be withdrawn by April 1997.
IK ratings help to classify products by its resistance to impacts by Kinetic Energy. In turn, EN 62262 specifies the way enclosures should be mounted when tests are carried out, the atmospheric conditions that should prevail, the number of impacts (5) and their (even) distribution, and the size, style, material, dimensions etc. of the various types of hammer designed to produce the energy levels required.] *1

---
Highest Impact Rating in Security Cameras
Currently (02-2020) IK10 is the Highest Rating Possible for protection against impact in electronic devices, such as Security Cameras. You can install CCTV Cameras that have the IK10 rating, can be used in applications with high rates of vandalism. In addition, a Security Camera that is IK10 rated will generally withstand a variety of elements better than standard Dome or Bullet Style Cameras. IK10 Cameras are built to last, so you can rest easy that you have chosen the best possible option for your CCTV application.
Ellipse Security offers several Uniview IP Camera models that are IK10 Rated for deployment in hostile environments. What's even better? These IK10 Rated Cameras from UNV have the most extreme temperature range in the industry. Many of these models can withstand temperatures down to -40 degrees Farenheit. Yes, that's 40 degrees below! And up to +158F.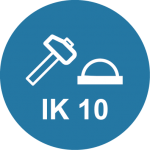 Uniview IK10 Security Camera Models:
IPC8542ER5-DUG 4K Multi Sensor IP Camera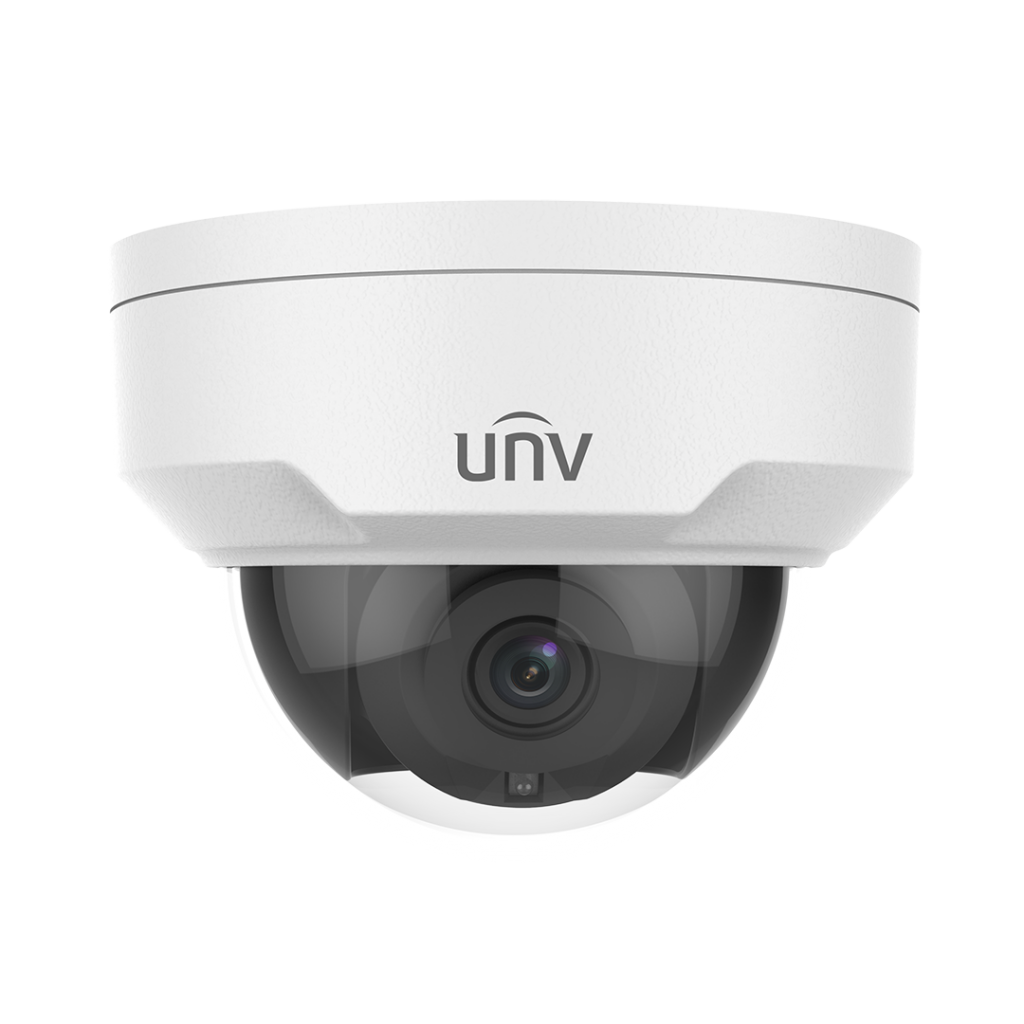 Have additional questions? Feel free to call us toll-free at 877-880-7728 or email [email protected]
We Love to Talk to People about Security Cameras!
Ellipse Security is an Authorized Uniview Distributor out of Jacksonville, Florida
*1 Wikipedia