IP Camera Video Broadcasting to Your Website or Social Media
Did you know that you can use an IP Camera to broadcast a live stream of your meeting, church service, class or gathering, to YouTube, Facebook, or your Website? Well, you can. With our IP Camera Video Broadcasting Service, you can reach more people by streaming Live Audio and Video over the web.
IP Cameras can do more than just monitor their surroundings. Using IP cameras to make video available to your public, potential customers or members, can be extremely beneficial. If you are a business or entity that holds gatherings as a part of your service, then you can take advantage of reaching people that are unable to physically come to your location. Just consider the expanded coverage of being able to reach people in their homes or while they are traveling. In addition, you can add cloud recording to your subscription therefore allowing visitors to watch and view at a more convenient time.
Video Broadcasting for Churches:
Broadcast Sermons and Church Functions to Members by streaming to your website, or Social Media. Church members can access your live stream when they are not able to attend in person. You can add Cloud Recording as well, so people can watch your event at any time.
Video Broadcasting for Hotels:
Stream your surroundings, including the convenience and activity of your location. Show people the attraction to your location by video streaming live. Arriving guests can also view weather conditions and text can be inserted for live notifications.
Video Broadcasting for Universities and Schools:
Stream your classes or seminars Live to your Website or Social Media for online learning. Video streaming a classroom can be more engaging than just online classes. You can also insert text to remind students of test dates or activities.
Video Broadcasting for Events and Seminars:
Give your clientele a way to access your offerings and services as a free or paid service.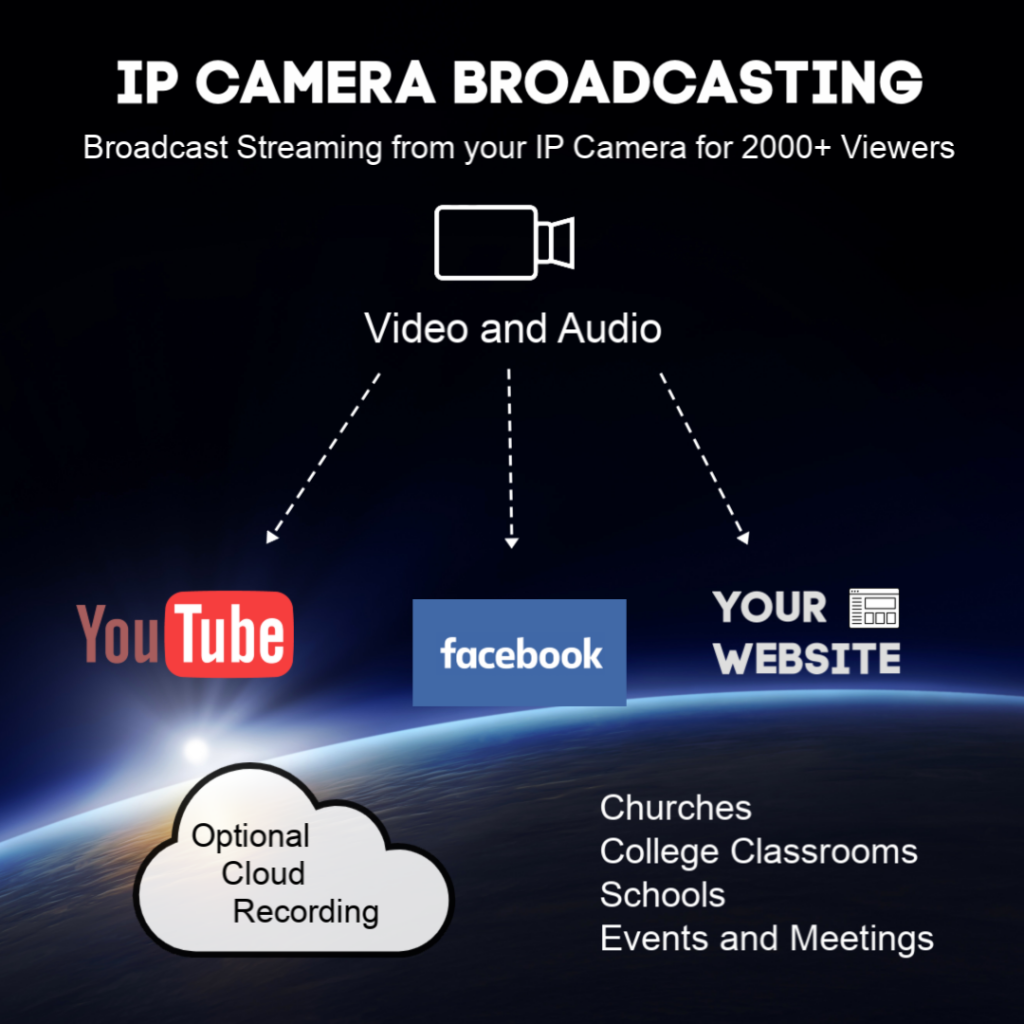 Live IP Camera Broadcasting and Cloud Service pricing:
Free: Stream to the whole world for free
$0 Camera per month. Unlimited data.
1000 concurrent viewers
h.264 + MJPEG support
Supporting high resolution
Live Audio
Responsive player for any device
Camera Status notifications
Accessible from desktop & mobile
Live & Email Support
STANDARD: Stream publicly without ads
$6 Camera per month. Unlimited data. $48.00 Yearly
All Free Features Plus:
No Ads on Stream Page
Password Protection
Scheduled Streaming
Branded Video
Google Analytics
Premium: Embed our player into any website
$30 Camera per month. Unlimited data. $300.00 Yearly
All Standard Features Plus:
Player Embedding
Domain Lock Stream protection
Custom Domain Address
Business: Popular stream for masses
$100 Camera per month. Unlimited data. $960 yearly
All Premium Features Plus:
2000 Concurrent Viewers
No AngelCam Logo in Player
Dedicated Key Account Manager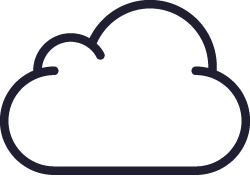 Optional Cloud Service:
7 Day Storage: $5.99 per Month, Per camera
30 Day Storage: $13.99 Per Month, Per Camera
Plans and Pricing may vary by storage needs. Please contact us for additional pricing and storage information.
How does IP Camera Video Broadcasting Work?
Are you wondering if Video Broadcasting with an IP Camera will work for you? If so, you can call us at 904-996-0061 to discuss your application in more detail. However, we will explain briefly how the system works. The set up is relatively simple and does not require expensive equipment in order to get started. You start by choosing the IP Camera that will work best for your application. Do you need Audio? If so, you will need a camera with a built in Microphone, or is Audio Ready. Do you want to be able to move your camera around? Then a PTZ is best for you. Once that camera is installed at your location and connected to your router, we can do the rest!
We recommend this Popular Camera for Video Broadcasting: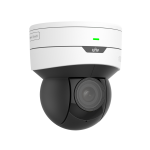 The IPC6415SR-X5UPW
Uniview 5MP IP PTZ with two way audio, motorized Pan, Tilt and Zoom, Starlight and True WDR.

Call Us Today!
If you want to discuss your project with us, that's great! Call us toll-free at 877-880-7728.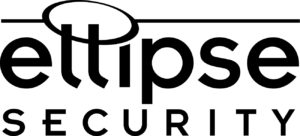 Security Camera Distributor in Jacksonville, Florida