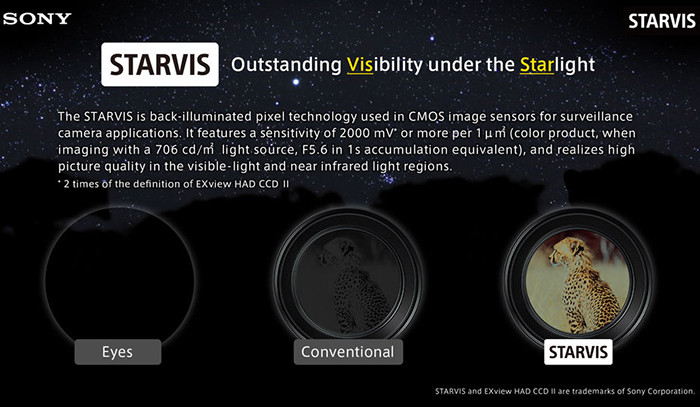 Starvis CCTV Security Cameras
I've been in this industry for a while now, and there have been a handful of innovations that have really grabbed my attention. STARVIS, certainly is one of them. For quite some time, a major drawback to to having CCTV cameras in a low-lit area like a restaurant or bar, is that since the light levels are below the IR threshold, cameras stay in IR mode (Black and White) all the time. In IR mode (night vision), you sometimes lose detail that may be important later on, especially color. In a situation where we need detailed images from our CCTV Cameras, like what color shirt someone is wearing, having a Security Camera that can see in color in low light can be very beneficial. In addition, there are unforseen times when something may cause the IR to bounce wrong and ruin a picture. I know it sounds far fetched, but we don't have CCTV systems because we're complacent.
Like I had mentioned earlier, Starvis is one of the few new things in CCTV (well… relatively new) that has really grabbed my attention. It allows for very low-light footage to be captured in color. The Starvis Back-Illuminated sensor, made by SONY, is incredibly sensitive, and since its introduction, they've improved upon the technology. You may very well be asking yourself what practical application would this have for you. Check out this comparison below and pick which image you would rather use as evidence or as a way of determining what color shirt a person was wearing.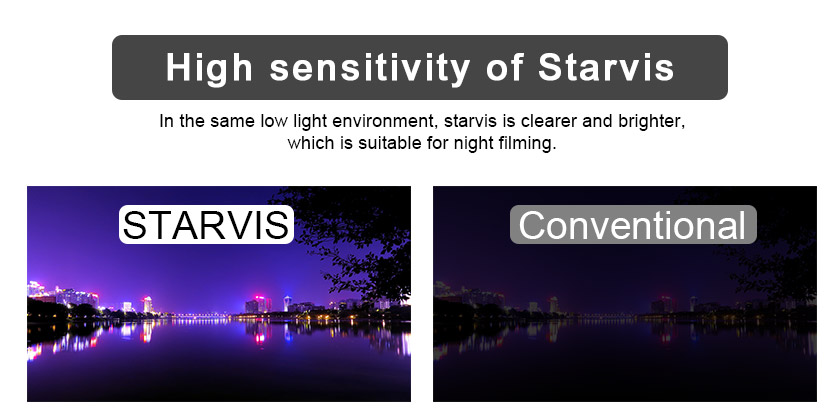 With Starvis technology, not only are images captured, but the footage would also have extra information for the police to possibly make an arrest. Can't see the color of a car when your cameras are in IR mode? What about a home intruder? The ability to be able to show the police exactly what they looked like is something that could be incredibly beneficial. Business owner? Maybe a restaurant or bar? Being able to keep all footage in color would help identify troublemakers should they start making a scene, or worse. Detail is better preserved in color. Beyond capturing detailed evidence, viewing your live CCTV images and recorded footage can be much more productive when in color. Imagine trying to explain to an employee in training: "Hey, when you served that woman with the, well I'm not sure what color hair she had but on my footage it looks…grayish?"
So Starvis Low Light CCTV Security Cameras are quickly becoming popular with Bar's, Restaurants, Poker Rooms, Internet Cafe's and a multitude of other business's that operate in low light conditions. One Internet Cafe owner exclaimed "Wow, it's great to be able to finally see everything in color, all the time! It always bothered me that when we were closed during the day, everything was in color but as soon as we opened, and the lights went down, my cameras were in black and white."

So you're with me up to this point, right? I'm sure you've asked yourself, "Which cameras are offered by Ellipse Security that have Starvis Capabilities?". I'm glad you asked. Our STOiC Technology Line of Cameras feature many Starvis Models for your needs. Here is a quick list:
The STH-B3271 with not only StarVis, but an incredible 270 feet of IR range
https://ellipsesecurity.com/product/sth-b3271b/
The STH-D5561W Dome
https://ellipsesecurity.com/product/sth-d5561w/
The variable focus STH-D2100W Indoor Dome (2.8-12mm zoom)
https://ellipsesecurity.com/product/sth-d2100w/
The STH-B3181 with an IR range of 180′ and a 2.8-12mm Variable Foucus lens (also available in charcoal color)
https://ellipsesecurity.com/product/sth-b3181w/
And the author's personal favorite, the STH-B2061W. Quite possibly our most well rounded camera, as well as one of our most popular. SmartIR, Starvis, a compact size, and also has built in audio. This camera could have an article all on its own.
https://ellipsesecurity.com/product/sth-b2061w/
And adding new models every day!
So, now that you've seen what Starvis can do for you, and have some ideas as far as practical applications for the home and business, give it a shot for your CCTV camera system. You'll be able to see the difference for yourself. Still have questions? No problem! Give us a call!
We love talking to people about security cameras, and StarVis!
Toll-Free 877-880-7728