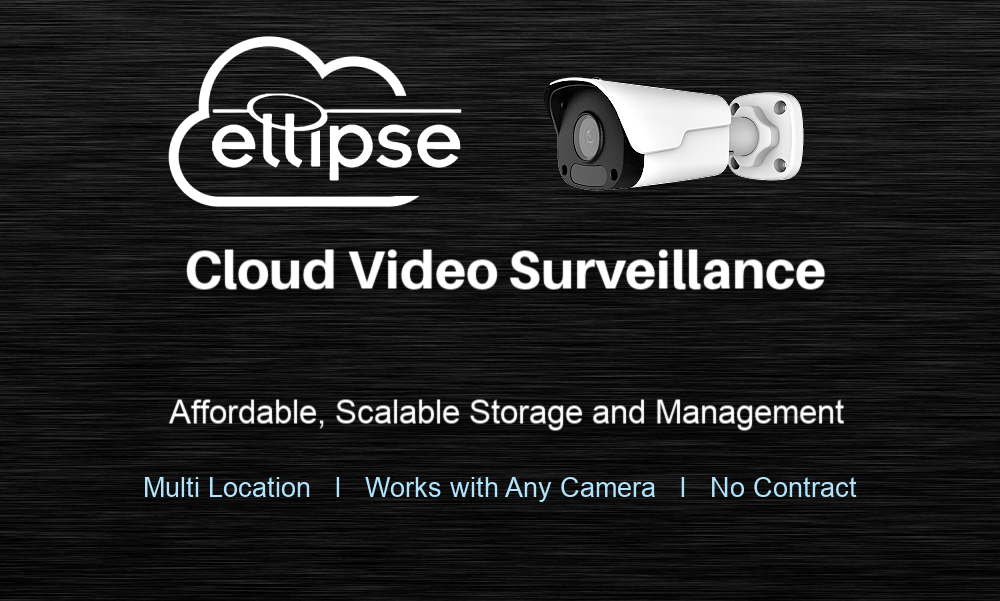 Ellipse Cloud Video Surveillance
The Ellipse Cloud Video surveillance platform is here! Are you looking for a cutting-edge cloud video surveillance system with all the features of a mature video management solution? Try our Ellipse Cloud Video Surveillance Platform. With the global migration of camera system management to IP Protocol, cloud technology is the natural next step for security management evolution. Dealer programs are available for our Integrators and resellers.
What are the Benefits of Ellipse VMS Cloud Video Surveillance?
Compatible with any camera
You can connect any stream source such as IP Cameras, Analog Cameras, Webcams, NVR and DVR to the Ellipse VMS platform. The platform allows you to take advantage of powerful remote tools to manage all aspects of your multi-site video surveillance network. In addition, if you have multiple locations to manage, you may have different technologies in each location. Not a problem! You can add IP, HD, and different brand cameras to the platform and easily manage them all with one login. You can add specific Cameras from each location, or every camera in your operation.

No need to buy additional Equipment
The Ellipse Cloud Platform does not require any additional equipment. Therefore, you can be up and running quickly using the equipment you already have with no costly investment needed. In addition, this will allow you to try the service and decide how to scale accordingly.
Powerful cloud analytics
You can utilize cloud processing to cost-effectively deploy intelligent video analytics add-ons across all cameras: object detection, heat maps, face recognition and more, on top of camera-side analytics. Therefore, standard IPCs can become smart IPCs.
Plug and Play Setup
Eliminate the complicated network setup and connect IP cameras and NVRs to the cloud quickly, securely, and reliably.
Ideal for multi-site projects
Our platform allows you to centralize the management of multiple surveillance locations. That means you can remotely troubleshoot and control settings, permissions, and analytics.
True Cloud Security and Reliability
Enjoy 99,999999999% uptime promise by Amazon AWS. Avoid bridges, hubs and other unnecessary capex-adding gateways. Connect directly to AWS over HTTPS tunnel. In other words, no additional equipment or large investment is required.

Multi-level delegated administration
This structure is invaluable for a service that might span multiple layers of dealers, users, and accounts.
Private Cloud for Enterprises
Leverage your own data center infrastructure to deploy the Ellipse video surveillance platform while affordably scaling services to your customers and dealers.
Scalable and Flexible Video Surveillance
Ellipse Cloud operates via Amazon AWS, which is the best cloud technology infrastructure in the world for redundancy and data security. In addition, AWS can also utilize any cloud environment including custom private cloud. In addition, Ellipse Cloud offers HTML5 web browser video interface along with comprehensive mobile applications for iOS and Android.
The Ellipse Cloud Video Surveillance Platform is infinitely scalable and flexible. Any ONVIF supported IP Cameras (Uniview, Hikvision, Axis, Vivotek, Etc.) and NVRs can be quickly configured without any additional hardware or software. Unlike traditional video management software, Ellipse VMS provides the freedom to connect and deploy installations on any type of device. In addition, it allows users to log in on the web or mobile to access the video with the lowest latency stream from anywhere, anytime.
Video Analytics for your Business
Organizations everywhere are turning to business video analytics solutions to make their organizations more productive and secure. This can empower business to be able to make data-driven decisions. Video Analytics for business is founded on Big Data, which is derived from a combination of structured and unstructured datasets from several sources. Video Surveillance footage is considered a major source of Big Data. That is because each camera gathers a plethora of information which can, in a network effect, be mined for business and security intelligence.
Subscribing to Ellipse VMS video analytics platform will aid in extracting valuable information, accelerate the incident searching process, and deliver better quality alerts. You can layer valuable server-side processing intelligence alongside camera edge analytics for object detection, classification (person, animal, car, etc.) as well as tracking, people counting, heat maps and area and color search. The platform allows configuration of object category rules for more accurate results.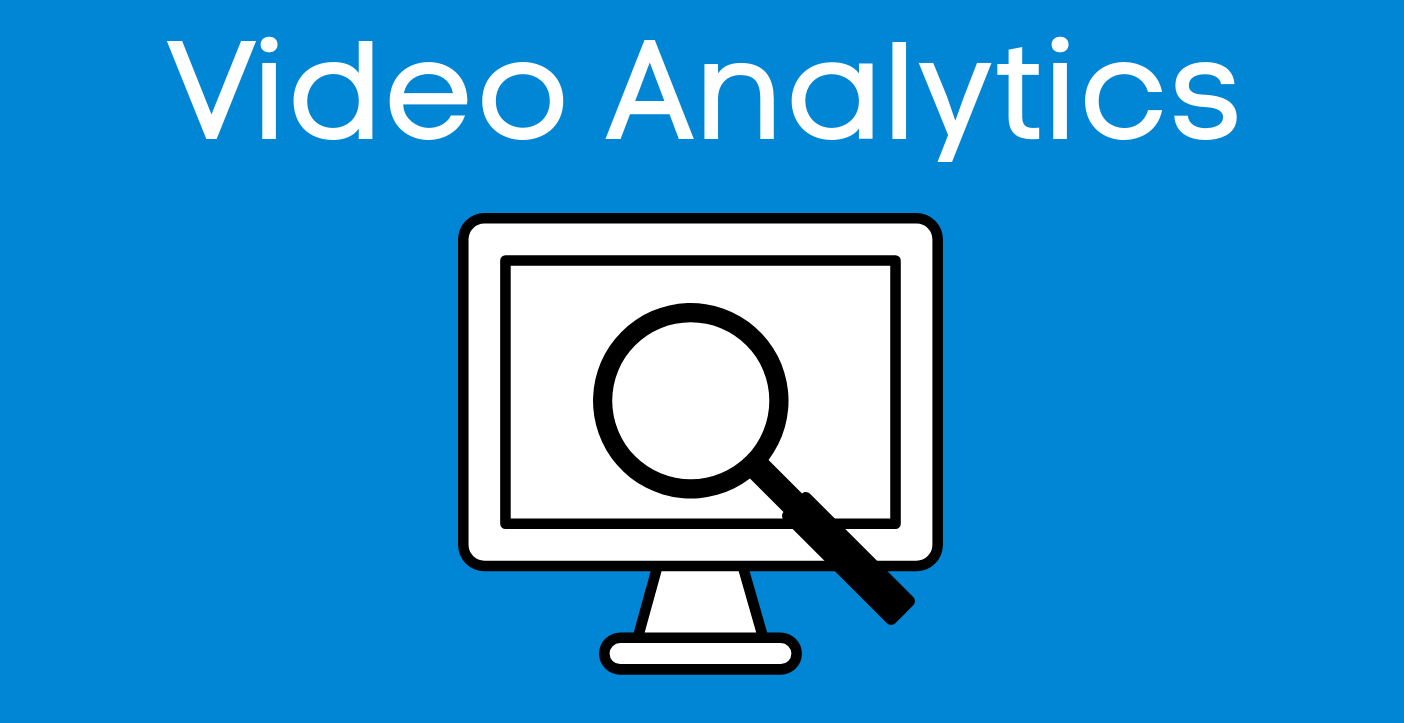 What are Video analytics?
Object Search and Classification
Ellipse VMS identifies thousands of objects such as people, vehicles, pets, furniture and more. In addition, the VMS provides a confidence score in regard to the object. Each classified object is supplied with metadata such as position, color and attributes. The rule-based engine allows to set up a camera-based event like Line Crossing, Motion Detected, Intrusion Area, Audio, Temperature and more. You can schedule these object category triggers to send alerts, and push notifications.
Object Tracking
Ellipse VMS uniquely identifies and tracks objects in the field of view in order to eliminate relevant alerts. This includes the determination of traffic flow and provides alerts for specific movement paths.
Heat Maps
Heat Maps on Ellipse VMS have been reinvented to be smarter and more accurate. Therefore, instead of relying on the camera motion detector, we utilize the power of our Object Recognition Technology to generate Smart Heat Maps.
Facial Recognition
Ellipse VMS enables you to find similar faces in a large collection of images. You can create an index of predefined faces that can be enabled for detection across multiple cameras. This also allows you to search through archives to find a face. It also provides age and gender attributes for the detected face.
People Detection and Counting, and Crowd Management
People Counting is based on people classification and tracking. Many other algorithms use simple line crossing to count people without any object detection, classification or tracking. With our VMS, you can select one or multiple areas and find out how many people moved through those areas during specific time intervals.
Vehicle Counting
You can view vehicle counting statistics throughout the day, as well as previous days. In addition, you can isolate periods to show events with moving vehicles categories present. One result would be identifying traffic issues.
Cloud Portal with Heat Map and Color Search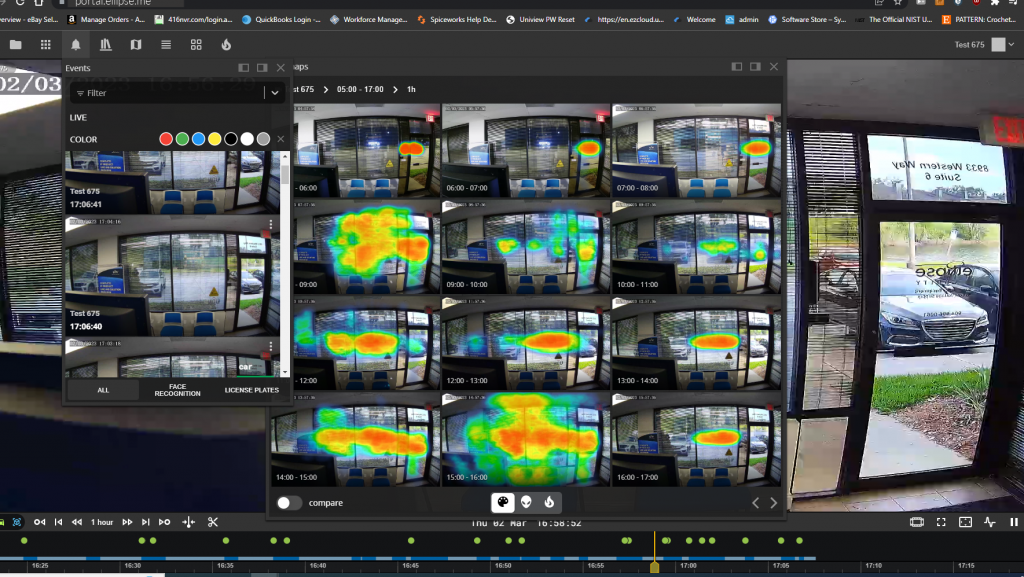 Cloud Portal with Heat Map and Object Search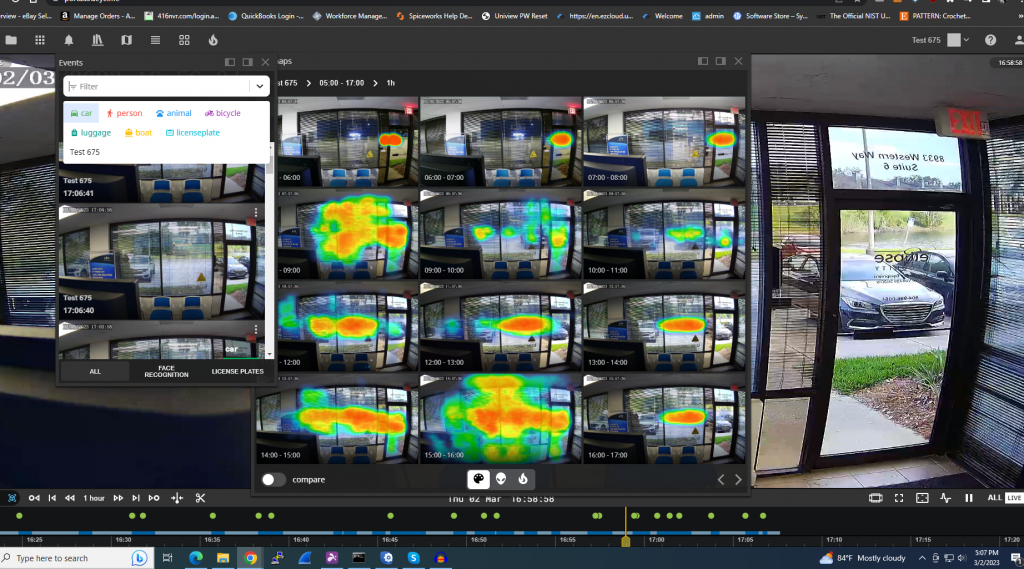 Get Ellipse Cloud Surveillance
Ellipse VMS is a flexible, scalable enterprise-grade platform that allows you to leverage all existing hardware for cloud video management and create a more robust surveillance solution. You can scale without additional hardware, software or licenses for a quick and easy, Plug-and-Play connection without port forwarding and firewall rules. Allow unlimited viewers across multiple sites and multiple brands, in a 100% Cloud Based Solution. That means no additional strain on your network and cameras. Leverage the cloud services for centralized remote administration of users, cameras, alerts, roles and much more.
Recommended Cloud IP Cameras
The Ellipse Cloud will work with any camera, However, we have found these to be very popular cameras for use in the Cloud VMS or without!





Cloud Surveillance Solutions for Industry
Smart Buildings and Cities
Rolling out cloud video monitoring across your building or city should be fast and cost-effective. Remain scalable and flexible when deploying across existing and new security cameras. Centralize monitoring and control multi-site surveillance in real-time.
Banking
Rest assured your cloud video is encrypted, compliant, and protected from the public internet. Optionally, store on your own custom/private cloud VMS. Merge unlimited surveillance locations under a single portal to efficiently view live and cloud archived footage, centralize remote administration, and deploy cloud analytics.
Retail & Restaurants
Unify access to IP cameras from multiple locations to optimize daily operations with a scalable VSaaS platform. Secure your store and gain useful insight into consumer behavior and trends using AI cloud analytics including facial recognition, object detection, heat maps, area and color search.
Property Management
Customize intelligent alerts to respond to incidents, protect against liability claims, build a reputation for safety and create a safer environment by minimizing vandalism threats. Unify multi-site surveillance and partition access only to authorized users. Recording directly to the cloud VMS and avoid maintaining recorders.
Healthcare
Secure critical properties and ensure that all health and welfare standards are met by personnel. Customize the cloud retention of individual cameras, motion-based or continuous recording. Easily find and playback video events with sophisticated VMS features.
Hotels
Leveraging a cloud VMS makes building a reputation for protection easier while reducing liabilities and creating a healthy environment. Choose to store video archive both locally and in the cloud. Extend viewing to unlimited users anywhere in the world and control the level of access to features users have. Integrate with access control.
Education
Strengthen protection and create a healthy learning atmosphere for students and employees. Authorized users can view all camera feeds through a single web or app portal, compatible with all devices. Avoid leaving the school system vulnerable to cyber attack by not needing to port forwarding and maintain gateways/bridges.
Mining and Oil & Gas
Popular with off-the-grid deployments, often powered by a solar panel and a 4G connection, Ellipse Cloud VMS makes it easy to maintain camera connection. Remote administration tools are available to troubleshoot camera settings. PTZ controls are available in both the web and app portals. Cloud connected active deterrence cameras create a powerful security management system allowing you to access and protect your sites instantaneously from anywhere in the world.
Self-Storage
Partners are utilizing our industry-grade security cloud VMS, backed up by Amazon AWS, to unify multi-site surveillance for self-storage facilities with all cameras and provide remote viewing to unlimited users. You get powerful front and back-end tools allow you to centralize remote administration. Clients report up to $500,000 savings in infrastructure and operating costs thanks to Cloud deployment.
Ready to get started?
Call us today at 877-880-7728 to find out how it works and/or request a demo.
OR:

Ellipse Cloud FAQ:
Do I have to sign a long-term contract to use The Ellipse Cloud Platform?
No Long Term Contract is required. Ellipse VMS services are all available month-to-month, however we do offer discounted rates for termed service. You do not have to sign any long term contracts.
What happens if I exceed my pre-pay plan?
If your account uses more data than you have pre-paid for, we will calculate a portion of the on-demand price that you have used extra for the month.
How do you charge for storage?
Storage is calculated as the average kb of data used each day over every day for the billing month. For example if you use 0.5 TB of data for the first 20 days and then 2 TB for the remaining 10 days you will be charged for an average of 1 TB over a 30 day month.
Am I charged to view my video?
Yes. We calculate the number of kb of video that you review during the month. This means that a portion of the data charge for the month will be from users who view the video. Typically, most clients review only a small fraction of the video that they store on our service, and you should expect the greatest use of data to come from the storage itself.
What if I do not have Cameras Yet?
We offer a complete line of IP Cameras that you can choose from. Therefore, we can tailor the system to fit your needs and ship the cameras ready to go! Ask us about our FREE Camera Offer.