Uniview Tri-Guard IP Cameras combine Active Deterrence and Analytics
Why do I need Tri-Guard Cameras?
Uniview Tri-Guard IP Cameras combine Active Deterrence and Analytics to deliver a solution that focuses on prevention. In the traditional security industry, your conventional IP cameras can face some unique challenges. Most surveillance systems are good at documenting occurrences and providing you with evidence. Also, the majority of todays newer systems provide some sort of notifications of events but not very accurately. In fact, some people get so many false alerts that they just stop looking at them. False alarms can be caused by birds, leaves, dogs and numerous other things that are not a threat to your property.
Image Capture at Night
In addition, you may already know that a majority of security cameras, whether they are IP or HD use IR Illuminators to produce Black and White Images at night. Some of these are pretty detailed but none will provide the detail you will see in a full color image. The Tri-Guard series of IP Cameras from Uniview addresses these issues to provide you with a much more proactive solution to perimeter and property protection.
Tri-Guard Solutions
So we talked about your alerts and recorded video being good for documentation. However, what if your system could let you know before something happens, and allow you to interact to stop it? We also covered false alarms. If you have ever experienced this, you know what a benefit it would be to eliminate the false ones and deliver only useable alerts. So what if you could identify an issue accurately, interact with it before there is an issue, and see the images in detailed Full Color even in the darkest night? Well, now you can!
The Tri-Guard Cameras combine Advanced Analytics (SIP), Active Deterrence and Colorhunter to prevent crimes, especially at night.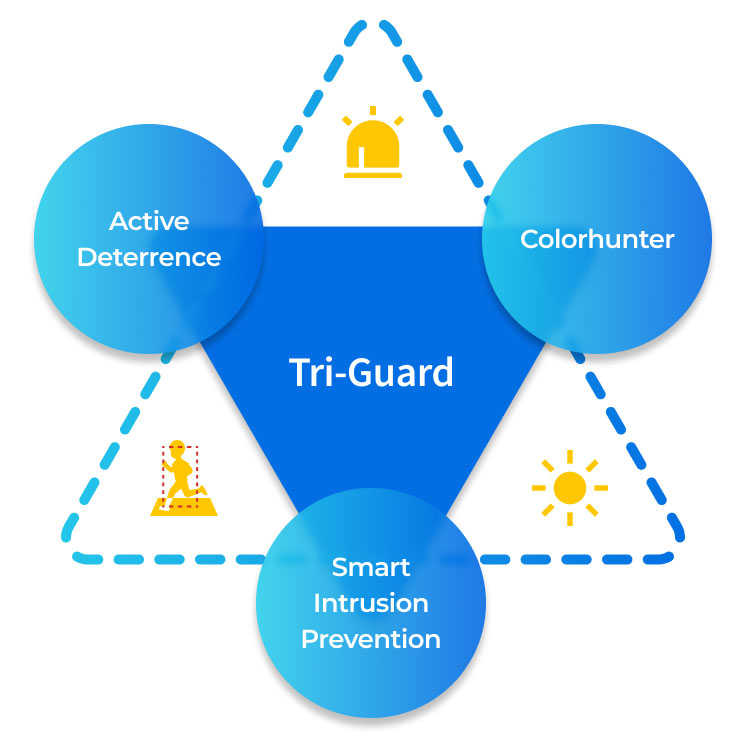 Smart Intrusion prevention (SIP) Advanced Analytics
Smart intrusion prevention significantly reduces false alarm caused by leaves, birds and lights and other incidentals. Your alerts are more accurately focused and triggered by actual events such as  human and vehicle entry into the scene.  Therefore, false alarms are greatly reduced. In addition, you are also able to set up perimeters and Line Crossing. That means you can quickly determine if the alert involves a threat before they get too far onto your property.

Active Deterrence
The Active Deterrence Function is activated once a subject is in view. Based on your pre-set conditions, the strobe light will come on and a sound warning will be played. There are several pre-programmed audio warnings, but you can also create your own. The built in Mic and Speaker are activated and you can talk through the camera if needed. There are three different Active Modes: IR Mode displays the scene in Black and White (at night but color in the day) Warm Light Mode keeps the scene illuminated and therefore in full color and Dual Light Mode which can stay in Black and White if nothing is happening and automatically switch to flashing light and alarm if a stranger enters the scene.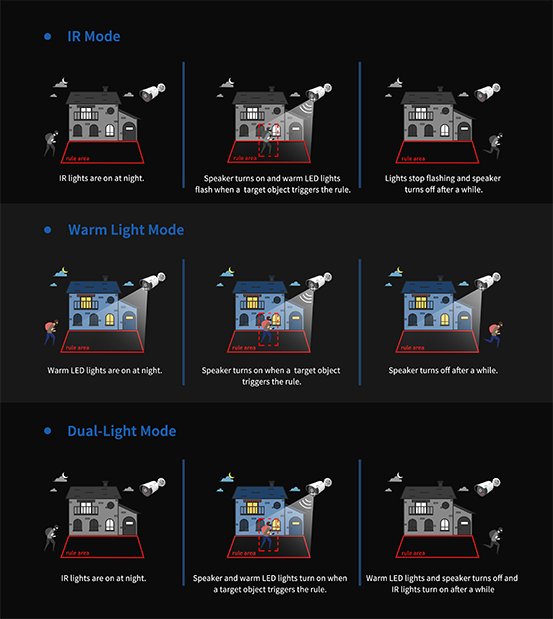 Colorhunter
As we touched on in the above paragraph, Colorhunter Technology consists of a built in Light that floods an area with light. Lets face it, Color images are much more detailed and forensically valuable than Black and White images. Uniview Tri-Guard Cameras employ a warm light integrated into the camera for better, more accurate footage. Keep in mind that the light itself can aide in prevention.
Smart LED: automatic intensity adjustment prevents overexposure
Two Warm LEDs: further complementary light distance and performance
Friendly Lighting: ColorHunter IP camera use warm LEDs that are friendly to human eyes

The combination of lighting modes make these cameras extremely flexible and adaptable to multiple environments.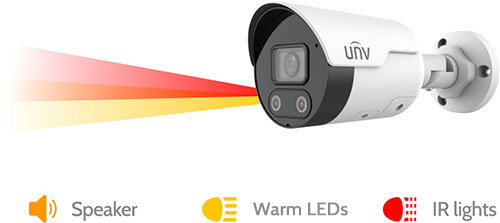 Additional Notes on Tri-Guard IP Cameras
High Resolution and Frame Rates
Tri-Guard Cameras come in 4MP, 5MP, and 8MP Resolution and can operate at 30FPS (Frames per Second) for high resolution clear video images.

Dual-Way Talk (Two Way Talk)
The dual-way talk function helps security guards or property owners/managers to monitor and control areas more effectively without extra loudspeaker. In addition, there are several pre-programmed messages that can be set to automatically warn an intruder.

Tri-Guard becomes a valuable asset for various types of property management and protection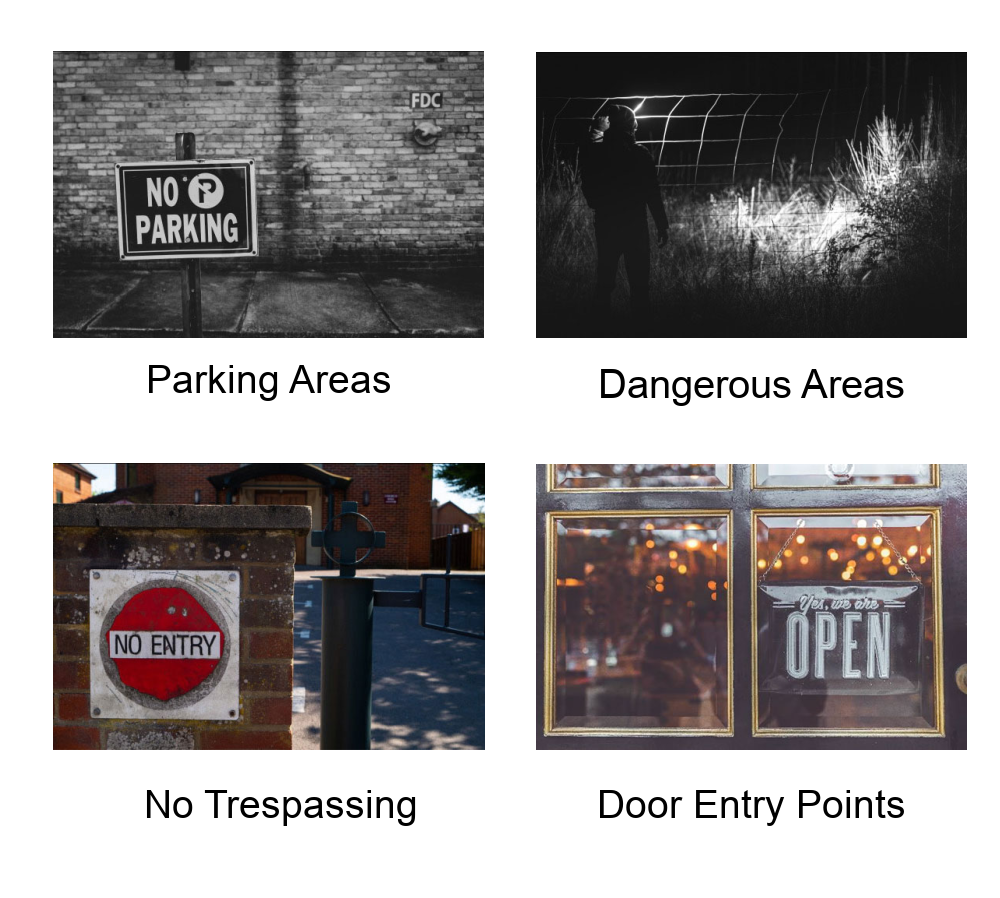 Tri-Guard IP Cameras provide a stepped up version of security management by allowing you to actively assess possible threats. If you have questions about these cameras for your application, just give us a shout! We are happy to assist before and after the sale with Free Lifetime In House Technical Support.
Here are a list of the Tri-Guard models available:
*All 2.8mm models are also available in 4.0mm.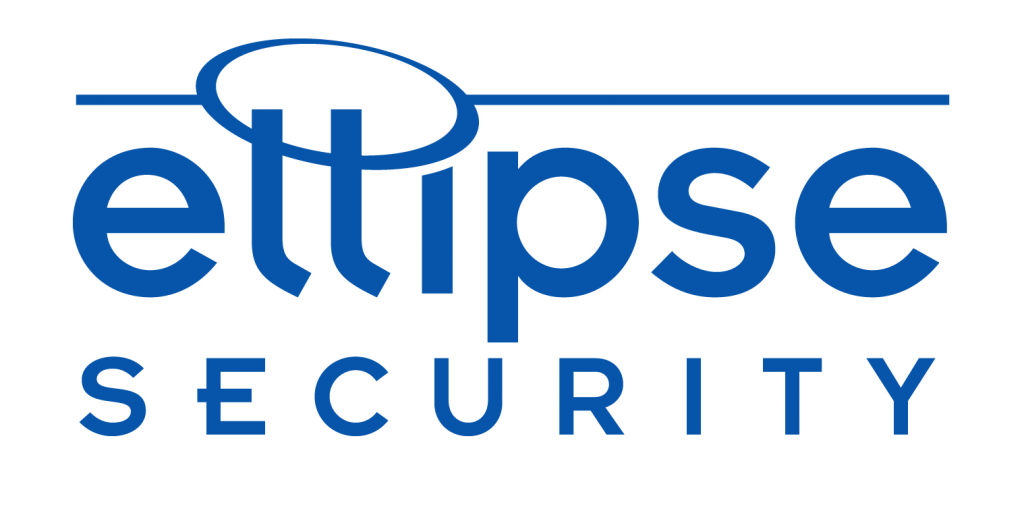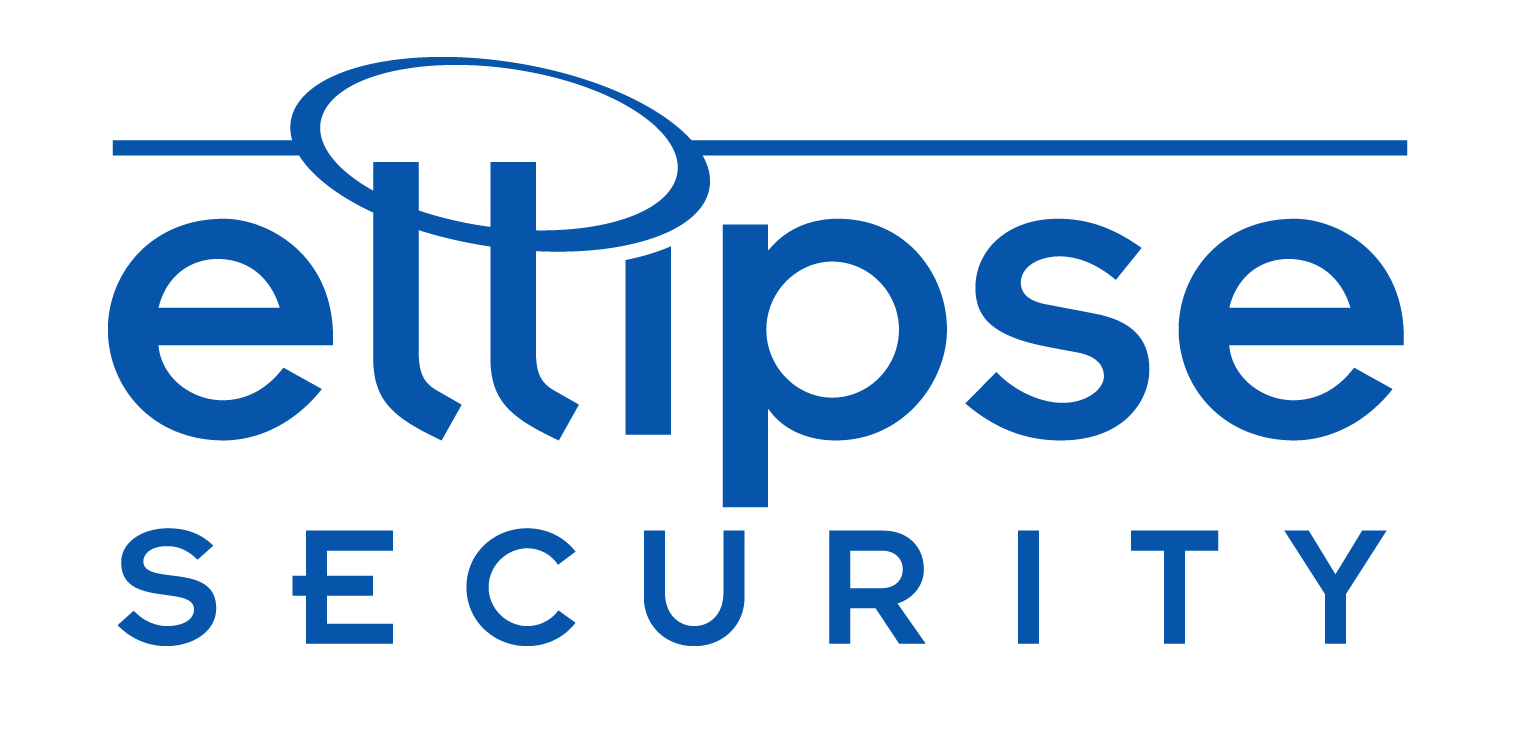 Your Favorite Uniview Supplier!
      877-880-7728