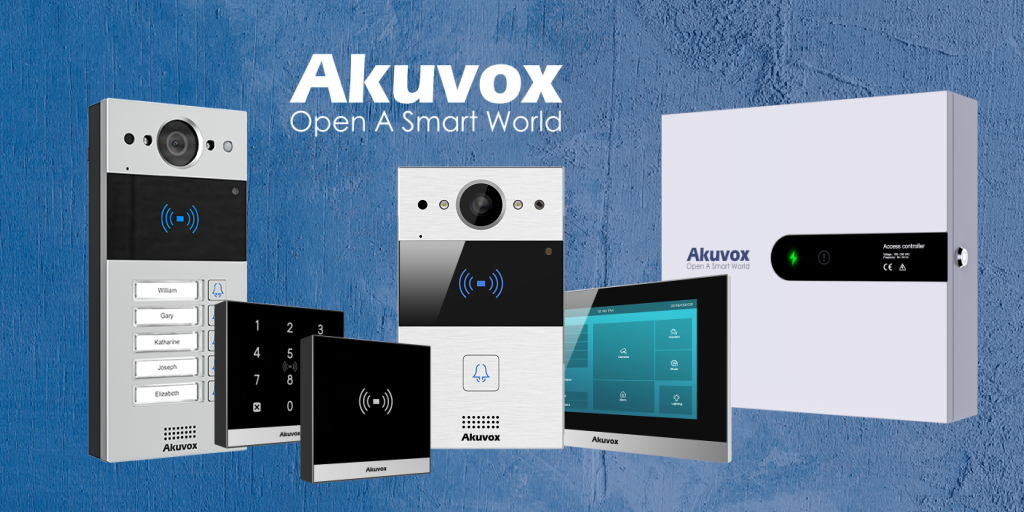 Akuvox Access Control and Video Door Intercoms
Why we offer Akuvox Access Control
We are excited to bring you our new product line-up from Akuvox! Many of you have asked us for a robust solution for Smart Video Intercoms and Access Control. Well, now it is here! Our Akuvox line-up is built to achieve a wide variety of applications and different size jobs. However, the most exciting thing about the product line is that the superb performance is coupled with a sleek, modern design that will work in any environment. Akuvox systems are ideal for your residential or commercial uses, including Multi-Tenant Residences, Office Buildings and more! In addition, you will be impressed by the features that are available in the Smart Video Intercoms, Card Readers, and Smart Monitors. We will talk more about this later in the post.
About Akuvox
Akuvox is a global leader in SIP-based intercom and video door phone solutions for residential and commercial buildings. As you can image, the company designs and manufactures a wide range of products, including IP intercoms, access control systems, and video door phones that are used in applications from single-family homes to large-scale apartment complexes, offices, and hospitals. Innovative technology is the driving force behind Akuvox's high-quality products. In addition, you and your client will appreciate the attractive designs and appearance.
Being a pioneer in the Smart Intercom segment, Akuvox continuously drives breakthrough changes in the industry. These include advances in Artificial Intelligence, SIP, Android, Cloud and Security Access Control. In fact, they have been deployed and used daily in more than 80 countries and regions meeting customer needs in various vertical markets.

Akuvox Intercoms Advanced User Friendly Features
You may be aware of some of the advances in the intercom market that are currently taking place. Akuvox is ahead of the curve in developing products that have the features your clients are asking for. Today's clients generally want more options and functionality. With Akuvox, you get a lot of options to offer your residential customer or building manager. In addition, Akuvox Video Door Intercoms will increase the value of properties by making them more secure and thus, more desirable for tenants. You can set up access for users via RFID Card, Key Code, Key FOB, Bluetooth and NFC.

Our Akuvox Products
We currently offer the R20A , the R20B-5 , the A05C and the S539 Video Intercoms and Doorphone. The R20A is a one button Intercom while the R20B-5 is a Five Button Unit. Both Intercoms offer RFID Reader, Two-Way Audio, RS485 and Wiegand so you have several application options. Even better, the units have a PoE interface to power and connect to a network. The A05C is an Intercom that also has a Facial Recognition feature for allowing access by Face Library. The Akuvox SmartPlus app allows tenants or building managers to see and talk to visitors and open doors. In addition, you can monitor building entrances and issue virtual keys from users smartphones to simplify property access management for property managers and owners. When a visitor pushes the button you get a notification on your phone. This allows you to check who is there with video, initiate a call with them, and decide whether to let them in or not. Cutting-edge smart doorphones, an easy-to-use mobile intercom APP-SmartPlus, and a powerful cloud-based management portal are all designed to deliver an unparalleled building living experience.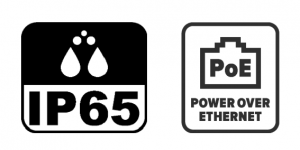 Access and Integration
While both of these units are designed to stand alone, you can also integrate them with existing Access Control. Since the units have an RFID Card Reader, they can be set up to open the door for those who have the proper credentials. They can also be wired into an existing control panel via Wiegand. Since the intercoms are ONVIF supported, you can send the video feed to your surveillance systems NVR Recorder. You can also integrate with Akuvox Access Control readers and controllers.

The S539 is our newest addition to the lineup! The S539 is a 10″ Video Door Phone with a whopping 15 different entry methods. You can use this unit for applications with multiple apartments or condos and projects where yo need a directory of tenants.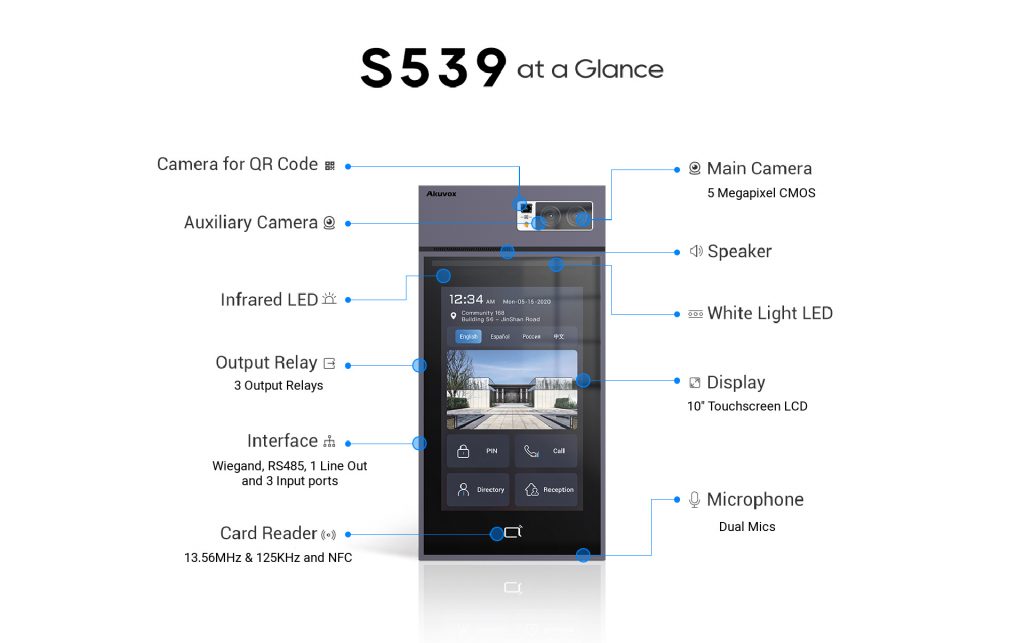 Akuvox Monitors
We offer several options for adding a monitor to your Intercom System. While your intercom is obviously outside, you can hook up a tablet style monitor inside your office or home with full operability with the intercom. The monitors feature Wi-Fi, Bluetooth and Video from your Doorphone/Intercom. In addition, you can hook up several monitors throughout your home or business so you always know who is at the door.
We currently offer the C315W and the C319A monitors for your convenience. The C315W is a 7 Inch, Touch Screen Monitor whereas the C319A is a 10″ Monitor.
2 Wire Video Intercoms for legacy 2-wire buildings
We also offer a solution for older buildings with legacy 2 wire cable. Lets face it, you would love to run all new Category Cable, but sometimes that is not in the budget. The R20A-2 is a 2-Wire solution for your Intercom application. Couple that with our C313W-2 Monitor and the NS-2 2 Wire IP Network Switch for a complete solution.
Video Doorbells from Akuvox
If you install any residential surveillance or home automation, you have undoubtedly been asked about Video Doorbells. Well, Akuvox just happens to have a RedDot Award winning Video Doorbell Option as well. We offer the E12W to complement our Video Intercom Line Up. The Akuvox E12W SIP video door phone is compact, stylish and versatile, and therefore perfect for any front door. This E12W unit is a single-button SIP video door phone for all types of front doors, be it houses, apartments, or condos. Despite a slim body, it boasts many cutting-edge features, such as mobile access and wireless communication. In addition, you can access or open your door using touchless or contactless technology. Even better, the unit has WiFi capabilities and ONVIF support. Access by NFC (Mobile Device) is also included. You can either Hard Wire this unit to your Uniview NVR or use the WiFi feature as a stand alone doorbell.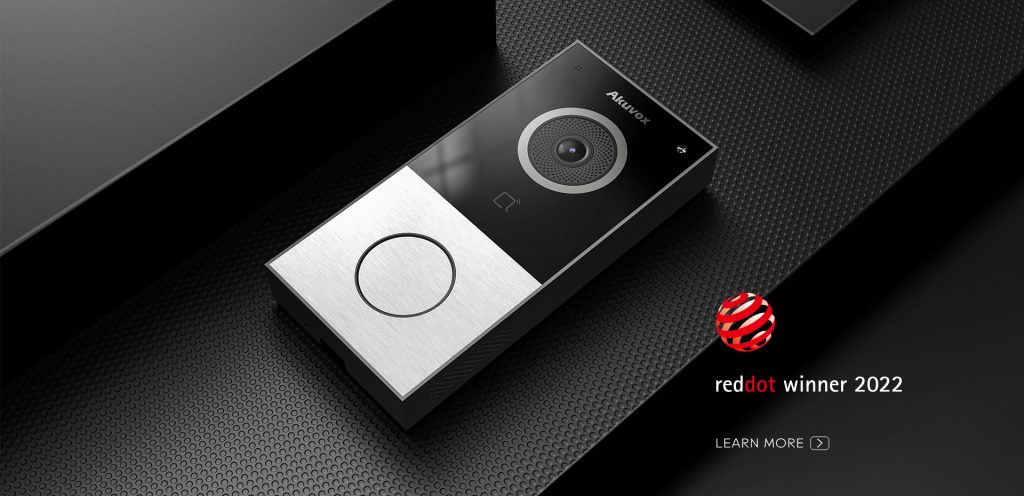 Again, we are very excited about the Akuvox Product and are confident you will love it also! We also carry Akuvox Readers and Controllers for commercial access control. We will cover these options in our next post. In the meantime, just give us a call at 877-880-7728 or visit us at www.ellipsesecurity.com
We Love to Talk to People about Security Cameras, and Video Intercoms!
Akuvox Products Discussed: