Description
TM35HN HD CCTV Test Monitor 5 in 1 Tool
This HD CCTV Test monitor is a MUST HAVE for any CCTV Security Camera Installer! Out TM35HN supports 5 formats in one tool and also supports PTZ control so you can carry just one tool to any HD CCTV Installation or Repair Job. This tool saves time and makes life safer for security camera installers who spend time on ladders and scaffolds. With this portable battery powered monitor a single person can install, focus and aim a camera without leaving the ladder. Additionally, the TM35HN can even power the camera for you which eliminates the issue of power problems when testing. Strapped securely to your forearm, this device leaves your hands free for tools and other tasks. No more trips back and forth, up and down. Time is money and this portable test monitor saves both. The TM35HN also has a PTZ Control, UTP Cable testing, Audio input testing and MORE! An absolute MUST when installing Vari-Focal Cameras!!
Pays for itself in one job!
Also Powers the Camera!
Supports: HD-TVI, HD-CVI, AHD, HD-SDI, ANALOG, PTZ
Features:
CCTV Tester with 3.5″ HVGA TFT-LCD Screen
Tests TVI, CVI, AHD, ANALOG, SDI Cameras
480 x 320 Resolution
Camera Menu Control
Powers the Camera, 12VDC, 1AMP

Audio Capable
PTZ Control
Digital Multi-Meter
TDR Cable Breakpoint and Short Circuit Test
Visual Fault Locator

Optical Power Meter
12VDC Camera Output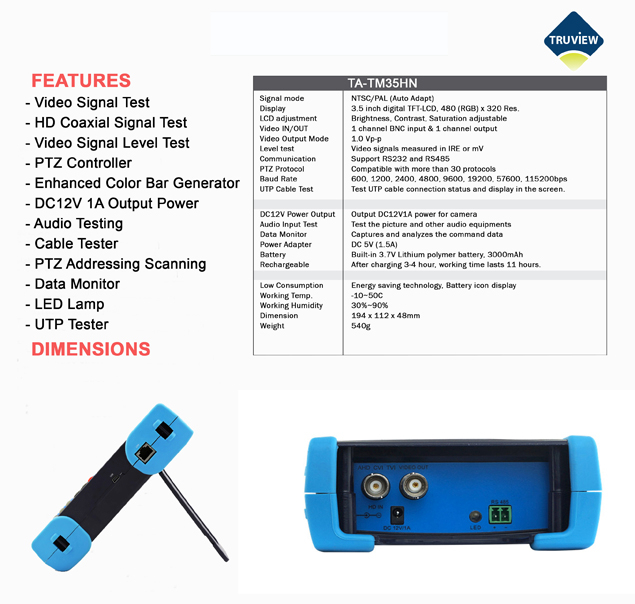 Many more cable tools, cables, connectors available !!
Call Toll-Free Today 877-880-7728
Ellipse Quality Guarantee
One Year Manufacturers Warranty
Product Description
Not Sure About Your Product or Compatibility? Ask an Expert!