Description
Akuvox VP-R49G SIP Android Guard Phone with 7″ Touch Screen
The Akuvox VP-R49G is a premium Android IP Phone that has a 7″ capacitive touch screen. This device can double as a Business phone as well as a Guard Station Phone. You can use this phone with any of our Akuvox Video Door Intercoms. In addition, you can live stream from your Door Intercom to the VP-R49G as well as opening the door remotely. This unit has an Android 9.0 operating system, supports PoE and Gigabit Port.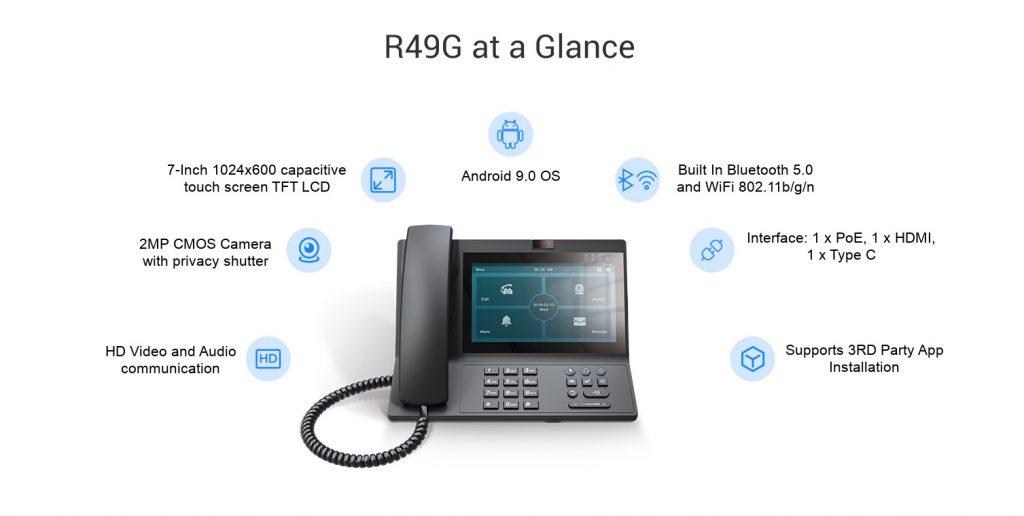 The security that comes with being able to control who comes into your building along with the ability to verbally, and visually, confirm their identity is immeasurable. Akuvox's Video Door Intecoms, such as the R20A, or R20B, together with the C319A enables you to easily monitor an entrance door or gate and gives you the peace of mind knowing that your facility is more secure. Therefore, units like this are  typically used in villas, houses and apartment buildings. In addition, the unit has a robust 3rd party compatibility and is capable of multiple interfaces.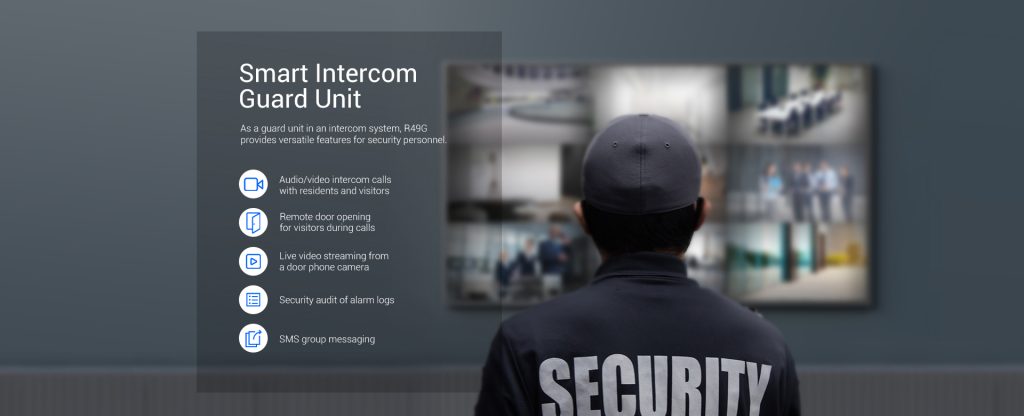 Video Intercoms for Safety
Video Intercoms or Door Phones, are a great way for you to control door entry and boost safety for your facility or building. In addition, your tenants or residents will appreciate the ease of use and added security. Whether you are upgrading an existing system or need a completely new installation, Akuvox and Ellipse Security can help! Akuvox delivers a robust system with ethernet connectivity and a mobile app for system management. You can add Cloud Service for complete control of your buildings door access.

SmartPlus App
The SmartPlus App is a mobile intercom app that works with Akuvox's cloud intercom service and smart intercom products. It allows residents to see and talk to visitors, open doors, monitor building entrances, and issue virtual keys from their smartphones.
The trend is clear. Video Door Phones and Smart Access Control users want mobile access with their investment. Akuvox SIP Door Phones allow you to offer your client the features they want and need.
Check out your Akuvox Video Door Intercom Options HERE!

Call us for assistance with any of your Access Control Projects:  877-880-7728
Ellipse Quality Guarantee
Free Lifetime Technical Support
Two Year Warranty
Not Sure About Your Product or Compatibility? Ask an Expert!