Description
BNC4P Four Channel Passive HD Video Balun
This Four Channel Passive HD Video Balun allows an installer to use a single Cat-5 cable to connect to (4) coax (BNC) cameras. Four HD BNC Security Cameras can be connected with one Cat5e Cable so you can save big on cable cost and installation time. This BNC4P 4 Channel Passive Video Balun carries video signal only and Security Cameras must be powered from camera end of Cat5e cable adapter.
Four video signals routed via (1) UTP and RJ45. The unit is passive (non amplified) device that allows the transmission of real time video over Unshielded twisted pair (UTP) wire.
Please use Standard CAT5E or above twisted pair wire. Wire quality can directly affect image and distance.
(Can also be purchased as a set that includes both the DVR and Camera ends. BNC4-C501)
Features:
Compatible with HD-TVI, HD-CVI, AHD AND Analog
4 Channel Passive Video Transmitter / Receiver
NTSC, PAL
Up to 300m with passive
Up to 1500M with ACTIVE TRANSMITTER (SOLD SEPERATELY)
Lightning proof 200V 10/700us
Compact size and easy installation
ABS Engineering pluggable screw terminal block
Super Anti-Jamming Capability
Save Cable Cost 30-50% or more!
Technical Specifications:
Frequency Response: DC-8MHZ
Attenuation: 0.5bD typ
CMRR: 60dB
Impedance: BNC: 75 O : RJ45: 100 O
Working Temperature: -10C to + 70C
Humidity: 0-95%
Metal Casing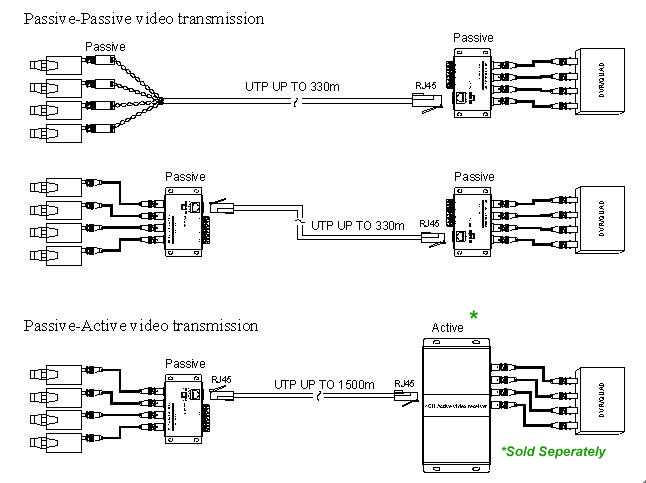 Not Sure About Your Product or Compatibility? Ask an Expert!