Description
Ring Video Doorbell 2
The Ring Video Doorbell 2 provides Next-level security and convenience that works on any home and includes a rechargeable battery pack. Both Venetian Bronze and Satin Nickle finishes are included.

Watch over your home in crystal-clear 1080HD video with the Ring Video Doorbell 2 and see, hear and speak to visitors from anywhere. With instant mobile alerts and two-way talk, you can answer the door from your smartphone, tablet and PC.
Instant mobile alerts
1080HD wide-angle video
Built-in microphone and speakers
The New Ring Video Doorbell 2 Includes Significant Upgrades From Original Version:
Video resolution has been upgraded from 720P to 1080P. The sharper resolution probably won't make any difference when you're viewing visitors in real-time, but it could be useful if you're trying to get a clear image of the face tattoo on a package thief who approached your doorway then scrambled away. Ring has also made the doorbell's internal battery removable. With the original model, you have to unscrew the entire doorbell from its backplate, then take the unit inside to recharge over USB. But with Ring Video Doorbell 2, you can simply remove the battery itself, leaving the doorbell installed. It's a small extra convenience, but, hey… progress! The video camera's night-vision system has also been upgraded to use an RGBIR sensor. Finally, the upgraded model has a new industrial design, as well as removable face plates so you can better customize the doorbell to your home's exterior.
Monitor Your Home From Anywhere
Ring lets you adjust your motion sensors so you can find
the ideal setting for your home. You'll get instant alerts
when motion is detected, allowing you to protect your
property from the comfort of your smartphone.
Adjustable motion sensors
Infrared night vision
Live View on-demand video and audio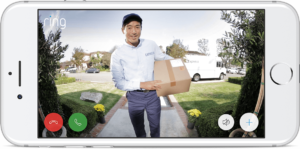 Smart Security for Every Home
Video Doorbell 2 works on any home and includes a
quick-release rechargeable battery, so you can charge
your Doorbell without removing the device. Get two
battery packs, and you'll never worry about power.
Hardwired or battery-powered
Includes one rechargeable battery pack
iOS, Android, Mac and Windows 10 compatible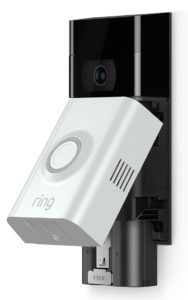 Works on Any Home: Runs off its internal battery pack or connects to doorbell wiring for non-stop power.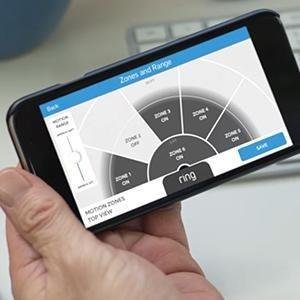 Advanced Motion Detection: Set the Motion Sensitivity and Alerts for your home and application
1 YEAR Manufacturers Warranty
Free Lifetime Tech Support
Money Back Guarantee
Not Sure About Your Product or Compatibility? Ask an Expert!