Description
STOiC IPSW-400 Panoramic 4MP IP Network Dome Camera
The IPSW-400 is a Panoramic 4MP IP Network Dome Camera with a 360 degree Field of View, and a variety of viewing options and modes. The combination of viewing modes, along with a multitude of features make this IP Network Security Camera extremely versatile and unique. The IPWS IP Network Camera has Two Way Audio, which allows two way communication. The Camera is IP66 Weatherproof so you can deploy this multi-featured IP Camera indoors or outdoors. A built in microSD Card Slot allows On Board Recording for convenience, as well as redundancy. This amazing camera, also referred to as a "Fisheye" camera, has several viewing modes that allow you to turn the panoramic image into 4 separate quadrants as if you were viewing 4 separate cameras with de-warping on zoom. Live Online Demo is available.
Panoramic Mode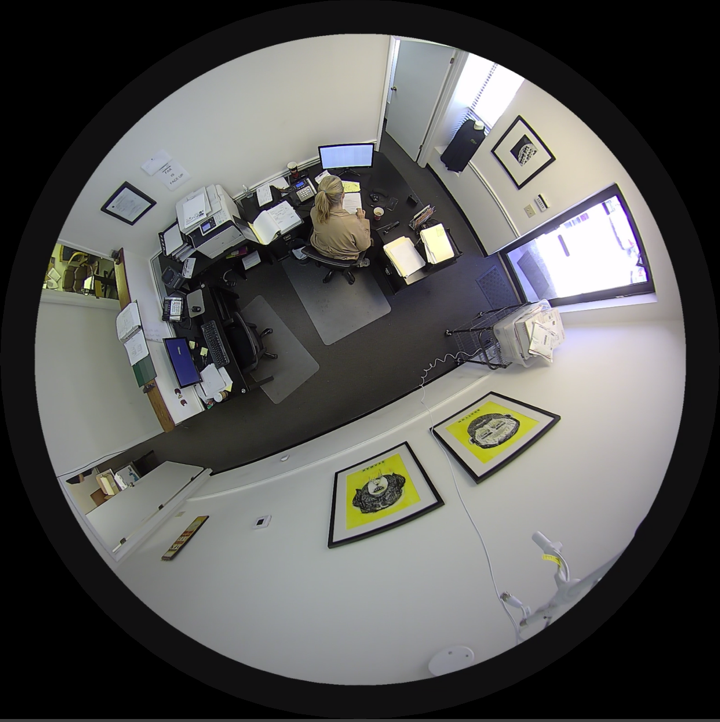 Four Way Mode with Touch Screen Control of Images (This is one camera)
This Mode takes the Panoramic Image above and breaks it into 4 individual quadrants that can be manipulated individually with the touch screen of your smartphone. Notice the mode switch control on the far right.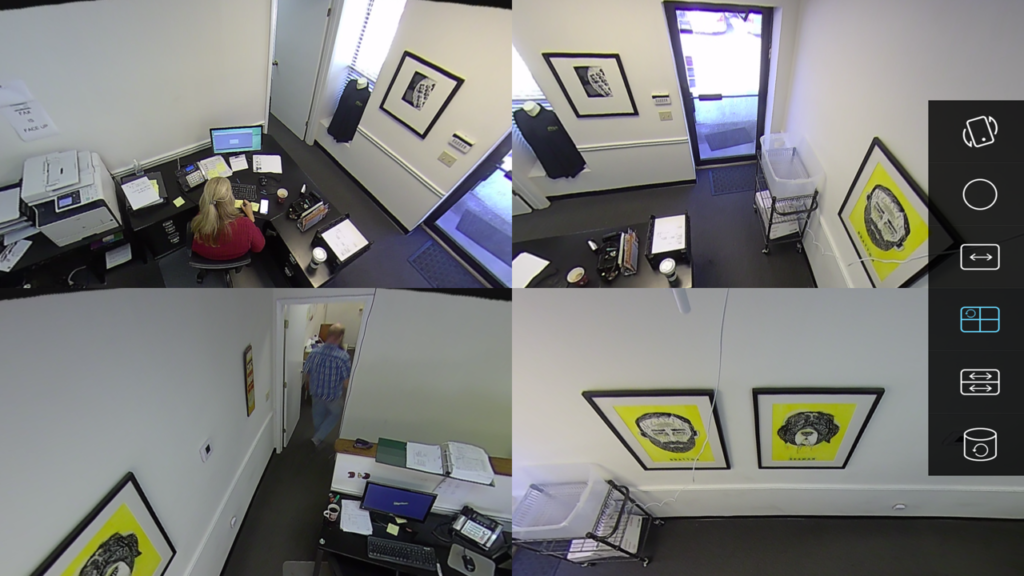 Main Features:
1/2.9″SONY Low Illumination CMOS Sensor
4MP/12MP High-definition Panoramic Lens 1.05mm
H.265/H.264 Compression Method
IR Distance: 60 Foot
Internal POE
Built In SD Card Slot (Max. 64GB)
WiFi Built In (Max. 300m)
Supports 2-Way Audio
Supports Alarm In/Out, CVBS
Built In Motion Detection
Cylindrical room view and spin around with touch screen
Picture can be spun around with touch screen on your smartphone. You can see the entire room from a unique perspective.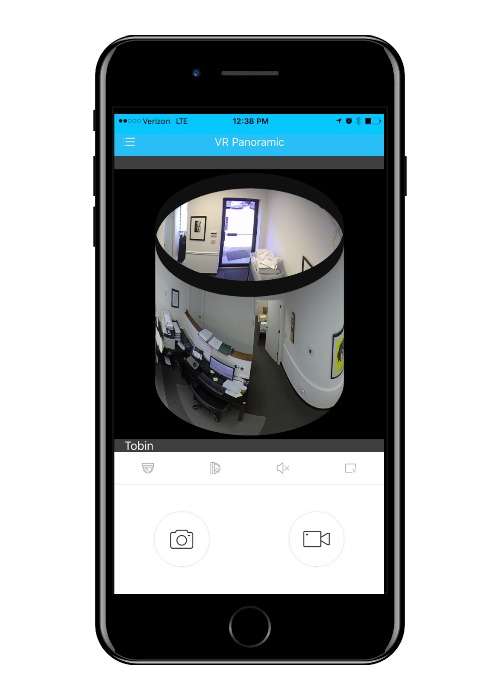 This four quadrant view on the iPhone can be manipulated by individual quadrants. (See our Video Below)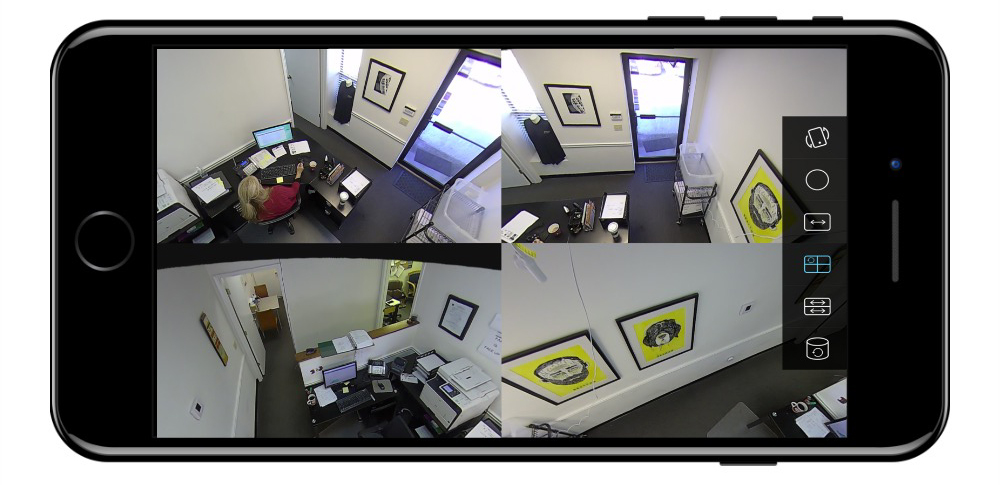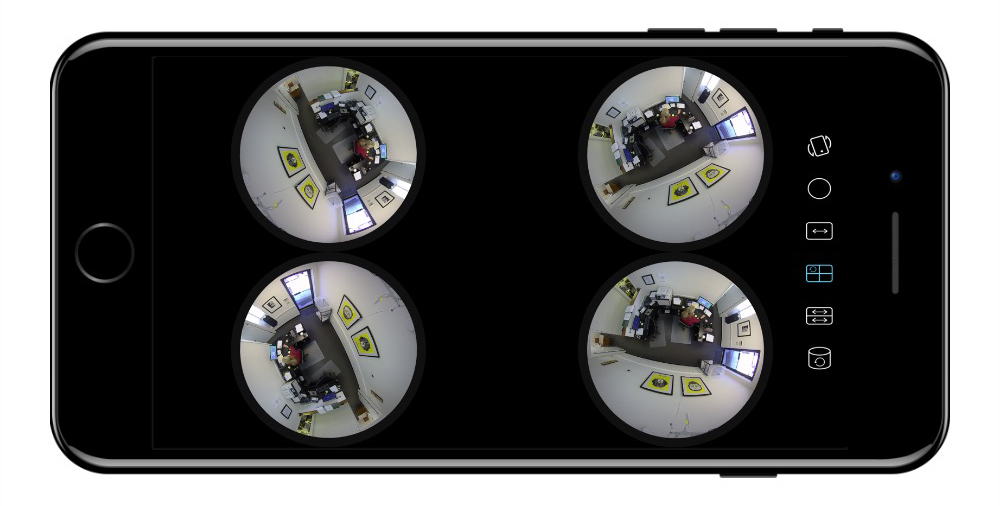 VR MODE
The IPSW Camera has VR features and can be viewed in Pan Mode. Turn your device and the camera follows your movement. Check out this video below. Here we take you quickly through all of the individual modes. Call us for an Online Demo to experience even more ways to view this amazing IP Network Security Panoramic Dome Camera.
Yes, we know, the IPSW really is packed with features and possibilities! But there's more. Other features include Built In Wifi Operation, WDR, BNC Input, ONVIF Support and Defog Mode. If you place this Panoramic IP Camera at the intersection of a 4 way hallway, you can view all 4 directions at once. Some of our clients will place this Panoramic Camera in the middle of a large room or office and monitor as if it was 4 different cameras. Other uses include entryways, School Hallways, Motels, Hotels, Gyms  and more! The possibilities are endless.
Feel free to call us for a Live Online Demo! Toll Free at 877-880-7728.
Remote Viewing App:
iOS: Free IP Pro
Android: Free IP Pro
Compatible NVR's in Our Store: Tru View, Samsung
Compatible NVR's in our store: STOiC, TruView, Samsung Professional
STOiC Technology IP Cameras are a professional line of security cameras built with high performance and affordability in mind. Always cutting edge, Stoic Technology, LLC. Incorporates the newest surveillance technology and features to deliver a 'Best In Class' line-up of Security Cameras suitable for Commercial CCTV Applications and higher performance residential CCTV Systems. All STOiC IP Cameras carry a 3 Year STOIC Warranty and FREE Lifetime Technical Support.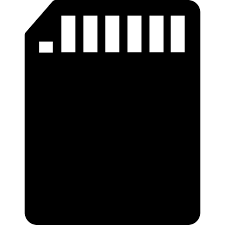 On Board Recording! With SD Card (Sold Separately)
Ellipse Security is a STOiC Technology Master Distributor

 CLARITY | INNOVATION | VISION
3 YEAR Manufacturers Warranty
Free Lifetime Tech Support
Money Back Guarantee
Not Sure About Your Product or Compatibility? Ask an Expert!