Description
HDMI-200M-W Wireless HDMI Extender up to 656 Foot Transmission
Extend a HDMI wirelessly up to 656 feet with HDMI loopout, IR and keyboard / mouse control. 1080p / 60Hz Full HD
Wirelessly extend HDMI signals up to 656 feet with IR support. The wireless HDMI extender supports resolutions up to 1080p 60Hz with a HDMI local loopout included for HDMI display on both the local (transmitter) and remote (receiver) side. Perfect for applications requiring both sides to be viewed. Built-in USB ports allow an additional keyboard and mouse to be plugged in for control if necessary. The wireless HDMI extender features low end to end latency (16ms), and can be used for various commercial or residential applications faced with wired limitations.
Increased Wireless Signal and Distance
Two detachable antennas provide a better signal and increased distance.
Wirelessly transmit HDMI signals up to 656 feet with IR control
Supports resolutions up to 1080p / 60Hz
Local loopout included for displaying on local and remote side
Keyboard and mouse control via included USB ports
Low end to end latency (16ms)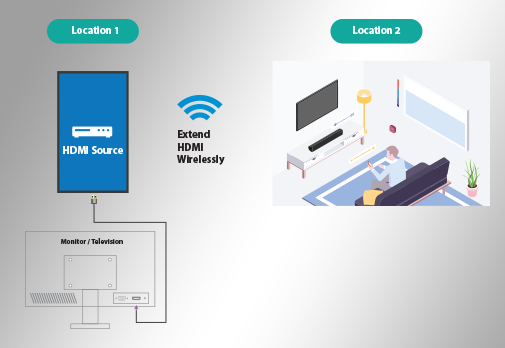 Eliminate Cabling, Simplify Installation
There are two primary ways to extend a HDMI connection. You can either run a long cable or extend over an Ethernet cable. Both ways involve running cabling, which can be an issue in certain applications. By extending the HDMI connection wirelessly, not only do you eliminate cabling, but it gives you more flexibility in where you place your HDMI source and display. Imagine placing the HDMI source upstairs in a closet, while placing the television outside, in a patio. This can be easily done with the wireless HDMI extender.
Up to 656 feet Distance
We get it. You need a setup that spans a long distance. Our wireless HDMI extender allow distances up to 656 feet, covering most residential homes and businesses (Note: wireless distance varies. Factors such as concrete or metal may decrease the distance. We suggest testing the setup to determine maximum distance capability for your particular application). IR cables are included so that you can control your HDMI source through your remote display. Simply point the IR emitter towards the IR sensor of the source, and set the IR receiver anywhere where you will be pointing the remote at, and you're ready to control. Only the IR emitters that come with the product are compatible. IR emitters that are not purchased with this kit will not work
USB Keyboard / Mouse Control
This device features the ability for you to control your PC from a remote location. Directly connect your PC to the transceiver via HDMI and USB cable. The receiver features two USB 1.1 A ports which can be used to connect a mouse, keyboard, or nano receiver in order to control your PC.
Features
Extends HDMI signal wirelessly at up to 656 feet (200m)
Supports resolutions up to 1080p 60Hz
Supports IR functionality, allowing users to control source from a remote location
One-to-One with local loopout for displaying locally and remotely
Wi-Fi Connectivity: 2.4GHz 802.11b/g/n
Low end to end latency: 16ms (TX to RX)
Receiver device includes two USB 1.1 ports for connecting a mouse, keyboard, or nano receiver. Perfect for applications requiring keyboard / mouse control
Dual antenna design for a more stable and stronger signal compared to a single antenna
Plug and play installation
Ellipse Quality Guarantee

Two Year Warranty
Free Lifetime Technical Support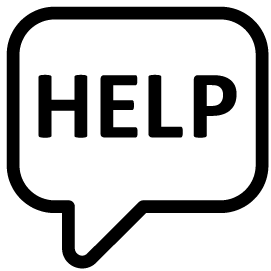 Not Sure About Your Product or Compatibility? Ask an Expert!