Description
CaP-America BNC Connector, The 30 Second Connector you can't screw up!
The CaP-America BNC Connector is a Quick Connect BNC fitting that you can't mess up! If you install Coax (BNC) Security Cameras, then you have probably used a few different methods for crimping BNC Cables. If you want to eliminate re-crimps, and stop struggling with conventional methods, CaP-America is the connector for you. Even better, a single connector fits any size coaxial cable, from mini-coax through RG6 Quad. In addition, this connector can NOT be puled off! You can, however, take the connector off and reinstall it. All you need to get started is the connectors and the T-PTOOL CaP-America Installation Tool.
The connectors work great with TVI, AHD, CVI and CVBS Analog.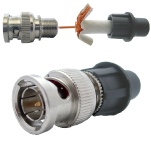 Ellipse Security carries a wide selection of connectors ranging from the twist-on to crimp-on and right angle adapters, for your convenience. These connectors and other video surveillance accessories are perfect for use with professional surveillance and video equipment and closed circuit television (CCTV) applications.
One Year Warranty
Ellipse Quality Guarantee
Free Lifetime Technical Support
Not Sure About Your Product or Compatibility? Ask an Expert!