How does the Manual Zoom Work on CCTV Cameras? It's pretty straight forward but requires a bit of practice to get it just right! As you probably know, most Security Cameras are Fixed Lens cameras with no zoom features. It can help immensely in a CCTV Installation to have at least some cameras with a Vari-Focal Zoom or (Variable Focus) lens. There are both Manual Zoom, and Motorized Zoom Security cameras available but the Manual type will be covered here. Manual Zoom Security Cameras are cameras that have to be zoomed in and out, as well as focused manually, when installed. They are not designed to be used like a PTZ or Motorized Zoom camera. These cameras feature the option of what FOV or Field of View you will need for each camera. The picture then stays in that setting once installed. That way, you are not stuck with a fixed wide angle when you may need one of your cameras to zoom in to your entry gate, etc. We have included below, some best practices, suggestions and instructions for using Manual Zoom, Vari-Focal, CCTV Cameras.
Best Practice: If no hand held test monitor is available, try hooking up the Manual Zoom CCTV Camera to your Recording Device and/or CCTV Monitor BEFORE running the cable. You can also use a test cable if you have a spare or if you have already run the cable. This will allow you to play with the Zoom and Focus options on the camera and even get the camera pre-set for the angle and view you want (FOV) before mounting. Once the Security Camera is mounted and in place, it is much more difficult to get the fine adjustments, unless you have a Hand Held Test Monitor like the ones found here:
* Warning: Do not force the zoom or focus screws as they can break and you will not be able to adjust them at all. If they are hard to turn, they are probably at the end of their respective turning ranges.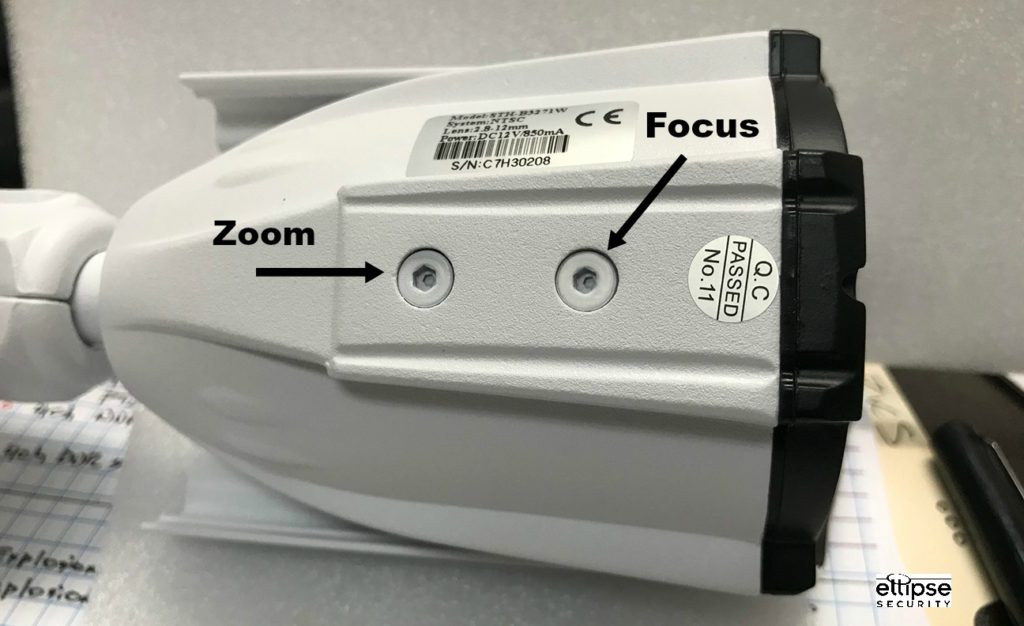 Instructions:
Find the zoom and focus screws located on the bottom side of the camera. While watching the monitor, use your allen wrench to slowly turn the zoom adjustment. You will notice that the picture begins to zoom in or out (depending on which way you turn the screw). As it zooms, it will blur as the focus needs to be adjusted to the new zoom level.
Now take the 'Focus' screw and turn it slowly one way or the other until the picture is in focus again. This can be repeated until you get the image you desire.
The Zoom and Focus adjustments on CCTV Cameras are frequently slightly off from each other. In other words, if you zoom all the way back (as wide angle as possible) you may not be able to focus the camera. In this case, back off the angle a bit until you can fine focus. Your FOV (Field of View) will still be at the widest angle of the camera. This may also hold true for the narrowest FOV as well.
The Focus adjustment is extremely sensitive and only needs very slight adjustment when fine focusing. If you turn it too much you may miss the mark. It's OK though, just turn back slightly.
It is always better to start with a focused camera, them zoom a little (in or out) focus, then zoom in or out a little more, fine focus, etc. Doing this incrementally will make it easier to find the focus.
There are a variety of Manual Zoom and Focus controls on CCTV Cameras but the general rules listed above, apply in almost all cases.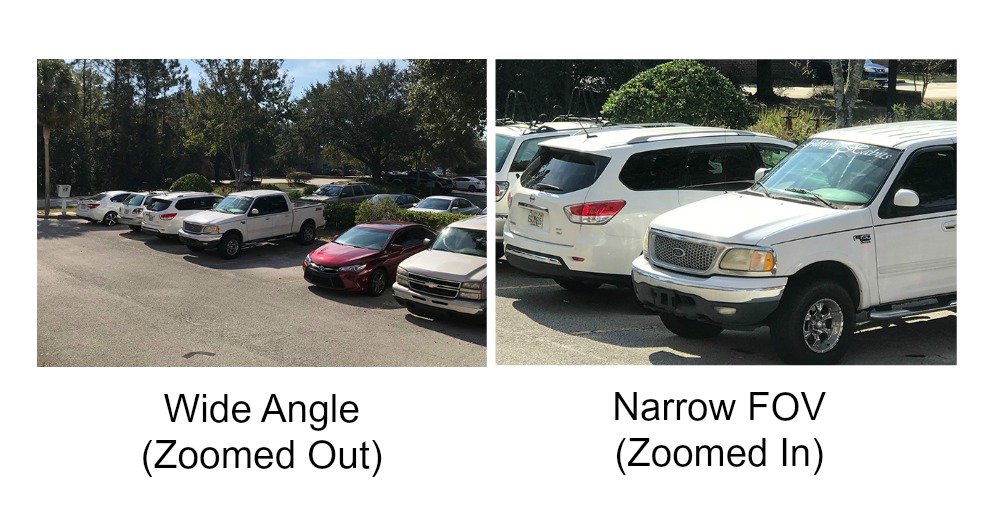 We hope this was helpful and informative. Please feel free to comment or contact us with additional questions. We are always ready to assist! Toll-Free 877-880-7728
We Love to Talk to People About Security Cameras!!