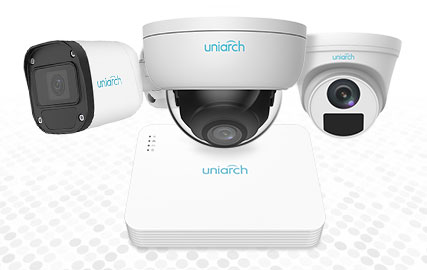 Uniarch Entry Level IP Surveillance Cameras and Systems

What is Uniarch? Think IP Cameras with an ultra-affordable price, a reliable quality guarantee, and easy-to-use. Now add a ton of features not normally seen in entry level IP surveillance and you get Uniarch by Uniview! We are constantly asked for a lower priced IP option for small business applications. If you are a Security Dealer, you have probably run across a client or two with limited budget options. Maybe you have just moved past this job or offered a quote that you know is probably out of their price range. However, many small businesses will grow and sometimes very quickly. Consider if you were able to offer an alternative, that meets the price point and allows the client to deploy an affordable IP Surveillance System. Therefore, you set yourself up with a foot in the door and future business.
Even better, you can do this while offering a low cost IP alternative from a proven manufacturer.
IP Surveillance for Small Business
If you are a Small Business Owner looking for affordable IP Surveillance, Uniarch is a logical choice. Our Entry Level IP Surveillance is scalable and meant to provide value for SMB. Lets face it, we know there are a lot of low cost options out there for surveillance cameras. The box store systems are cheap, but they are also… 'cheap'. If you order on Amazon you really never know what you are getting. Most of these systems are problematic, difficult to use, and tech support is generally non existent. Wouldn't you rather have an affordable system that can grow with your business? In addition, Uniarch systems and IP Cameras come with a 3 Year Warranty and Free, Lifetime In House Technical Support. We make it easy so you can focus on running your business.
Toll Free Sales Hotline: 877-880-7728
Uniarch hits the entry-level surveillance market with brand-new IP products that feature incredible cost vs. performance value. The New Entry Level IP Surveillance Line Up is budget friendly with advanced features.
Uniarch includes IP cameras and video recorders that are an affordable option for the small-to-medium business applications. The Cameras are capable of providing Ultra 265 compression which maximizes bandwidth and storage reduction. In addition, Uniarch features wide dynamic range to ensure excellent image with significant foreground and background illumination differences. Completely reliable and accessible, the Uniarch line up allows for expanding your customer base and acquiring new clients. This Entry Level IP Surveillance offers 2MP, 4MP and 5MP options, as well as a variety of form factors.
Uniarch, totally new look, totally cost-effective, totally not that complicated.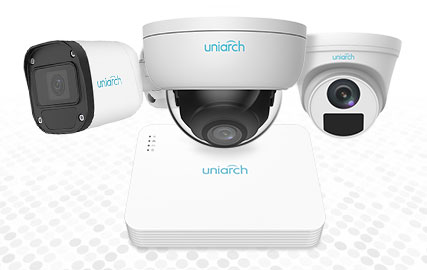 The New Uniarch Systems are Fully Covered with Manufacturers Warranty and Free Lifetime Technical Support! Yep! We stand behind the Uniarch Systems just like all of our other products. Affordability doesn't have to mean that you are on your own. You can rest assured that product support is second to none, so you will have peace of mind along with your purchase. In addition, Uniarch IP Systems come with Mobile app and Client Software at no charge. View from anywhere on your mobile device or PC on iOS or Android as well as Windows or Mac.
---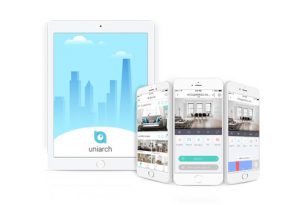 Mobile App for Uniarch IP Systems:
Uniarch
Available for iOs and Android
Add a device by QR code scanning.
Share a device to multiple users, as well as allowing multiple users to log in to the same account from multiple clients simultaneously.
Live view: live video in split view on multiple screens, resume live view, PTZ control, two-way audio, image quality, snap-shot and record.
Playback: recording search, synchronous playback, 4/9-split, SD card recording playback.
Alarm: Real-time motion detection alarm, alarm video, batch handling of alarm messages.
Sharing: Share device/channel, set sharing period and permissions, view/edit sharing history, cancel sharing.
Cloud account management: sign up with an email address, edit account info, retrieve password.
File management: sort image/video by type, export files, share files via third-party apps.
---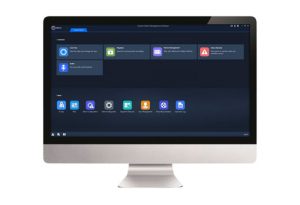 VMS for Uniarch IP Systems:
Unified management for IP cameras, NVRs.
Efficient device management: Automatic device discovery (or search by network segment); add devices by IP address/domain name; EZDDNS; as well as add devices and adjust time in batch.
Diverse functions:
Live view: scene, custom layout, split screen, auxiliary screen display, corridor mode, sequence display, audio, two-way audio
Recording: local recording, alarm-triggered recording, scheduled recording, recording download
Playback: synchronous/asynchronous playback, instant playback, smart search, recording search by time/event, and play recordings on SD card
PTZ control: preset, preset patrol, recorded patrol, patrol plan
Alarm: Service alarm (event alarm), device alarm (online/offline, etc.), alarm triggering (live view, etc.), real-time/history alarm management
E-Map: hot spot, hot zone, eagle eye, and map alarm
Download Uniarch VMS Version Here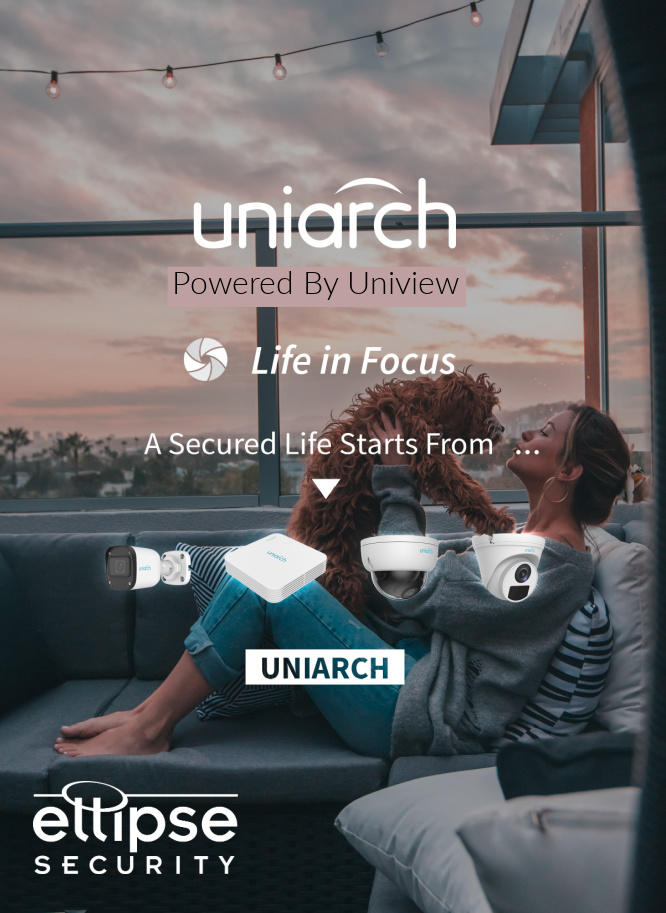 ---
Available from Ellipse Security Distributors in Jacksonville, Florida.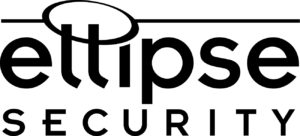 Call Toll Free 877-880-7728