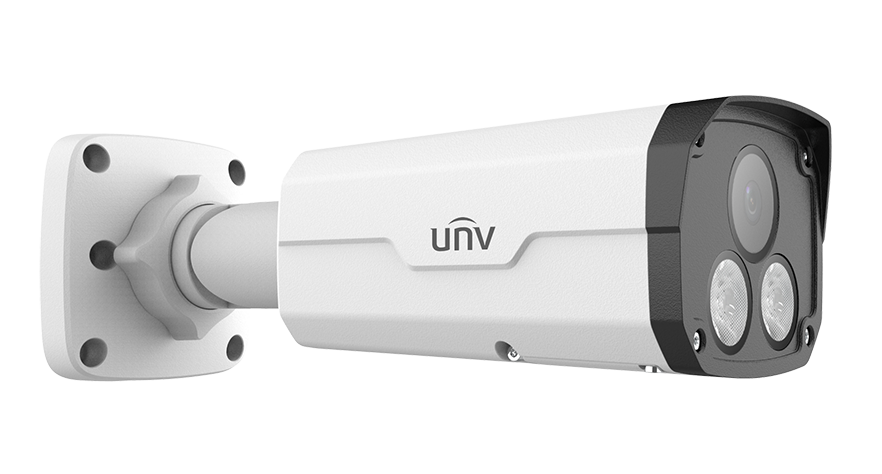 Uniview Colorhunter IP Cameras
What are Uniview Colorhunter IP Cameras? Uniview Colorhunter Technology employs white light LEDs in order to deliver Color Images 24 hours a day, 7 days a week. Therefore, surveillance footage has a higher forensic quality and detail regardless of lighting conditions.
If you have any experience with Security Cameras, you are probably familiar with how most night vision cameras switch to Black and White in low light levels or darkness. Many of these cameras have improved night time images dramatically. Technology such as Starlight have improved the duration for a camera staying in color. Uniview Lighthunter Cameras are among the strongest example of delivering color images in extremely low light levels. But now, Uniview has taken that to the next level.
ColorHunter delivers Color Images 24/7
Color Images for higher Forensic Quality
Let's face it, we all know that color images provide the best detail, and thus the most forensic quality surveillance. So what if your camera could stay in color in even complete darkness? In critical surveillance applications, details can make all the difference. Having color images 24 hours a day, 7 days a week, regardless of light levels would be a great advantage for security personnel and business owners. Well the good news is that Uniview has made this possible.
Uniview Colorhunter cameras use Warm Light LEDs that illuminate a scene and record images as if it were the middle of the day. This allows your cameras to deliver more critical information for evidence collection, even in Ølux environments. In addition, these cameras use a larger F1.0 IRIS for 2.5X more light than common F1.6 versions. A larger Iris lets more light into the lens. Built In Auto Brightness adjusts to Motion and Subject in the scene for even more adaptability. Unlike many competitors, Uniview technology eliminates ghosting and blur so images are clear even with a moving subject.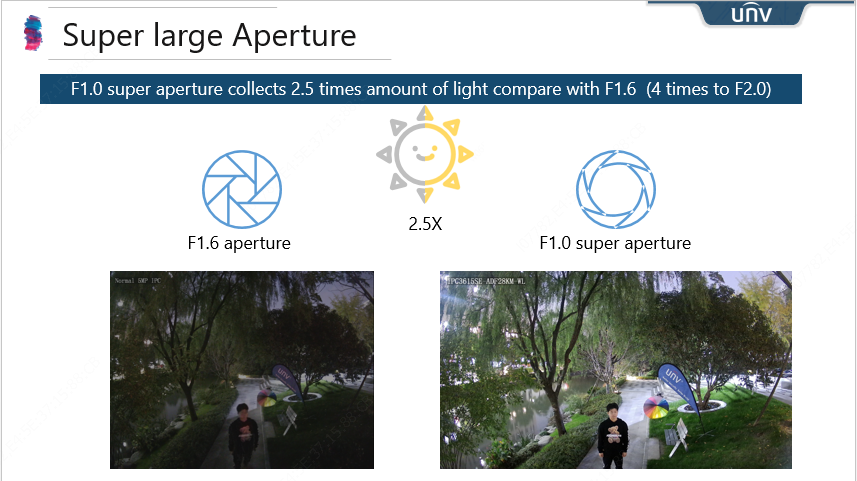 16:9 Aspect Ratio:
But Uniview doesn't stop there either. The aspect ratio for the Colorhunter Cameras is a 16:9 with Full [email protected]×1620. If you are familiar with aspect ratio in CCTV or IP Surveillance then you have probably experienced other types of AR's. When using a 5MP Camera, you have probably had to work with a 4:3 ratio which is fairly common. In fact, many security camera buyers use 4MP cameras in order to get the wider image. UNVs Colorhunter 5MP Cameras use the wider 16:9 ratio as referenced below.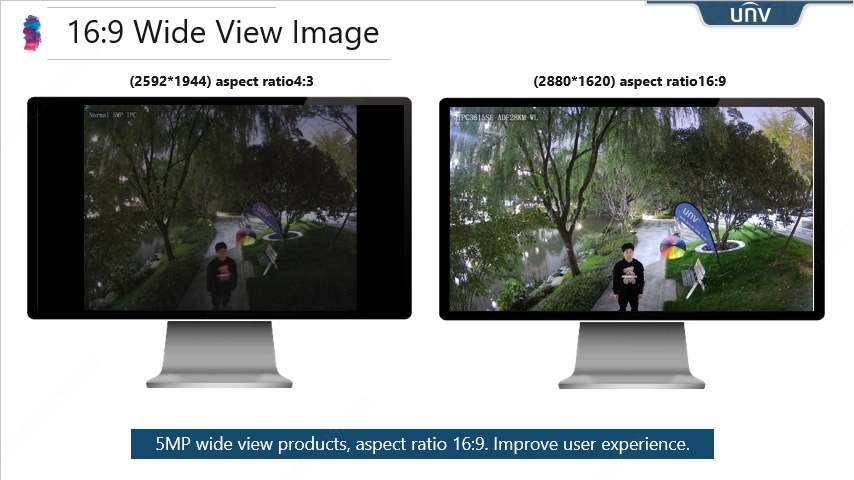 A Plethora of Advanced Features:
The new Colorhunter IP Cameras from Uniview are feature rich and powerful. If you like your tech with lots of upside, then you will love these cameras. More importantly, your customers will love them even more! Additional features such as Smart Intrusion Protection and True WDR come standard. The IPC2225SE-DF40K-WL Colorhunter Bullet Camera is IP67 and IK10 Vandalproof. The IPC3615SE-ADF28KM-WL-IO Colorhunter Dome has a built in Microphone and is also IP67 Weatherproof. Both models include a built in 'Corridor Mode' for picture correction in applications like hallways, as well as the features below: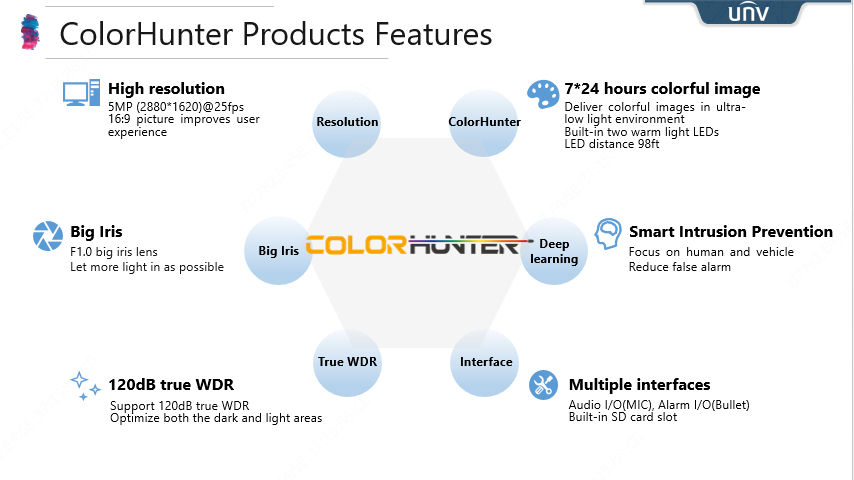 Lighting designed for surveillance:
It is not enough to just illuminate an area. Proper exposure requires many factors working together in order to deliver  detailed surveillance images. ColorHunter IP Cameras use warm light LED's in order to maintain more accurate color representation and avoid color distortion. In addition, Smart LEDs automatically adjust their intensity to avoid overexposure.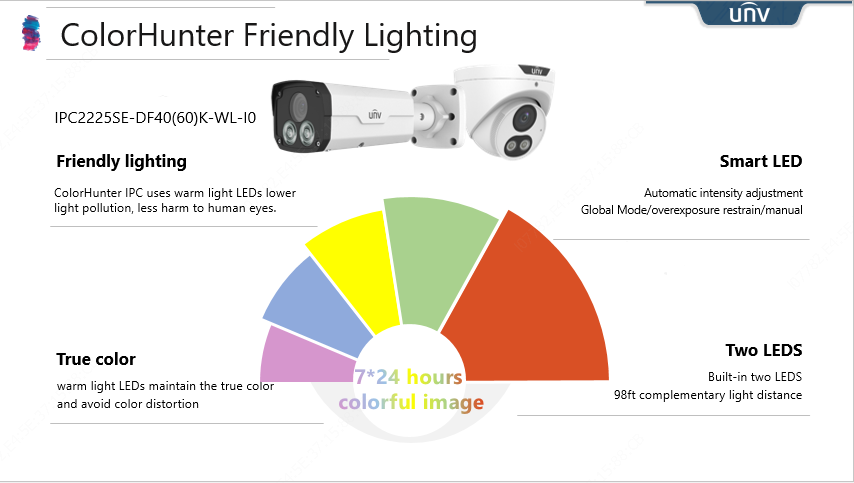 Built to withstand the toughest environments:
UNV ColorHunter Cameras are designed with metal housings in order to withstand adverse weather and difficult environments. In fact, the IPC2225SE Bullet Camera is rated IK10 Vandal resistant. What is IK10, you ask? Only the highest rating for impact resistance available in a Security Camera. Both models are IP67 weatherproof as well.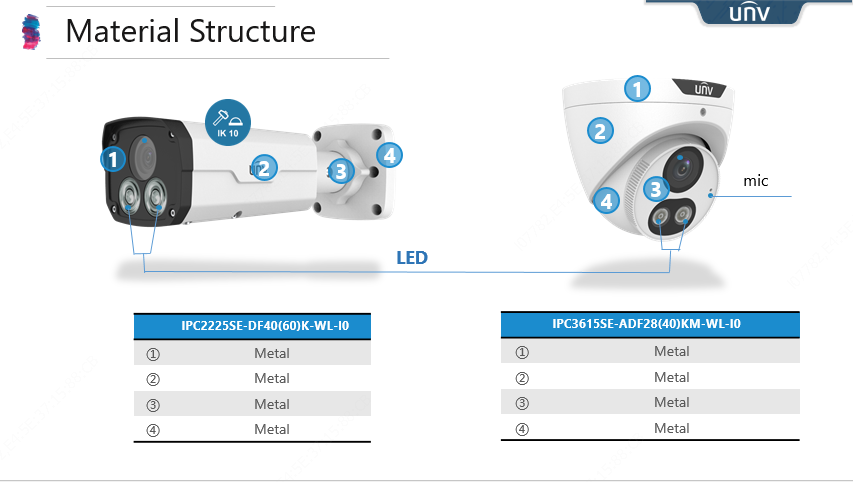 Colorhunter Cameras have Built In Smart Functions:
Smart Intrusion Protection is built in to the Cameras including Line Crossing Detection. The camera can detect the difference between a person, vehicle or animal, in order to give you the proper notification. As a result, false alarms are drastically reduced. You can set up notifications for persons entering or leaving an area as well.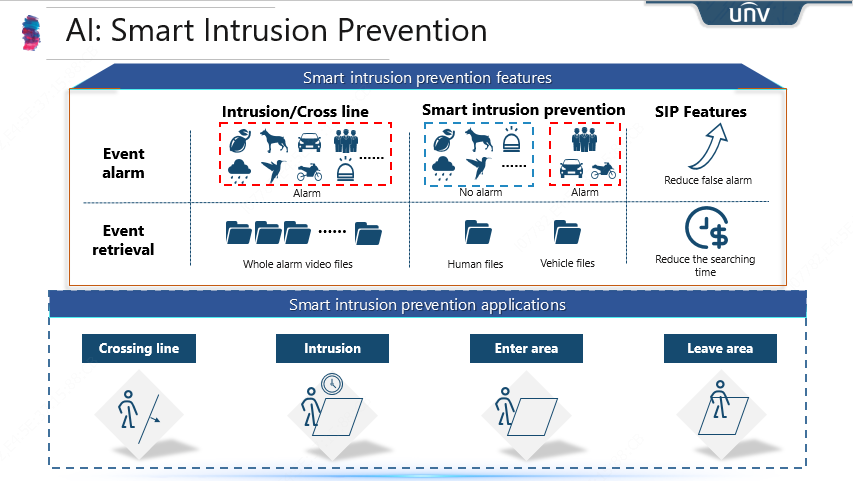 Use and Application for Uniview Colorhunter IP Cameras:
The possibilities are pretty much left to your imagination. Deploying a Camera that delivers Color Images Day or Night certainly has numerous advantages. If you manage a large surveillance network, you probably have areas where standard night vision is just not doing the job. Step up your application with ColorHunter Cameras from Unviview!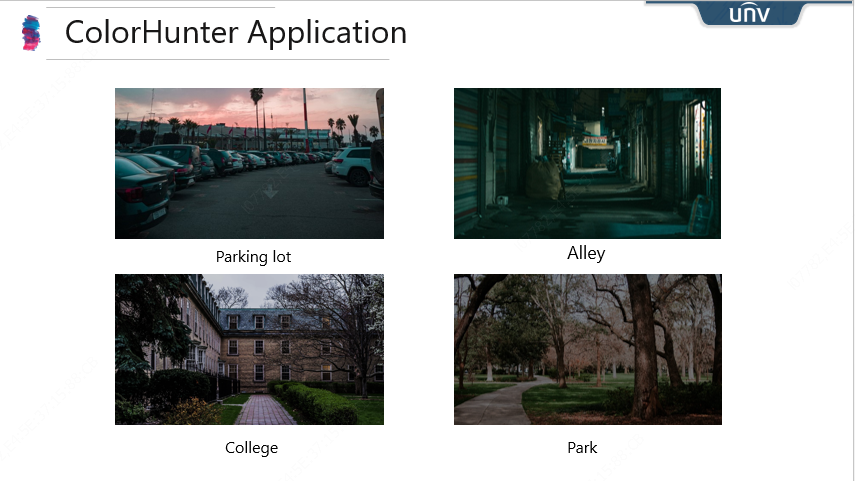 Current Colorhunter Models:
We currently have several models in stock and more on the way!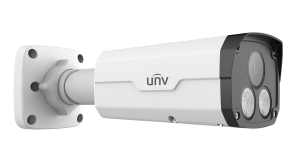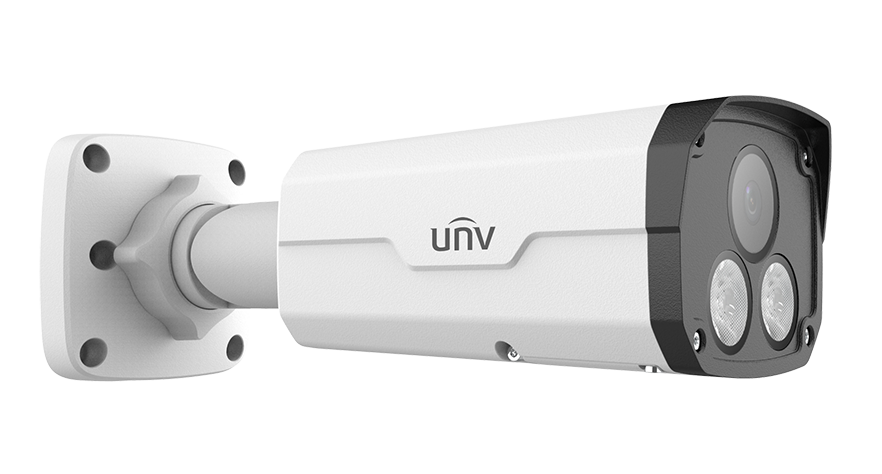 IPC2225SE-DF40K-WL-I0-PL UNV 5MP ColorHunter IP Bullet Camera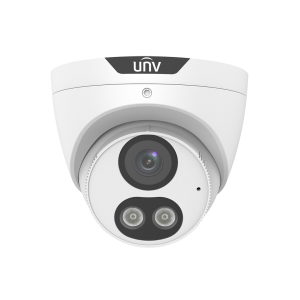 IPC3615SE-ADF28KM-WL-IO UNV 5MP ColorHunter IP Turret Dome
If you have any questions about these great new Cameras, or need assistance with a different project, give us a call at 877-880-7728. Ellipse Security is a full service Distributor and an Authorized UNV Distributor.