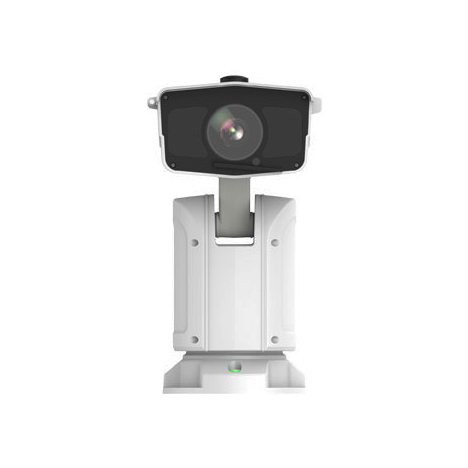 Lighthunter Technology and the Uniview Network Positioning Systems
Uniview Teleview Network Positioning System
Uniview, one of the world's leading manufacturer of video surveillance products and solutions, launched its 2MP Lighthunter IR Network Positioning system for vertical and commercial markets. The Teleview series, including IPC7622ER-X44U and IPC7622EL-X55UG, are advanced IP Camera Systems that deploy Univiews Lighthunter Technology to benefit industrial, commercial and urban applications. The Teleview Series Positioning Systems solve a number of problems that are characteristic of applications that involve monitoring large areas, Perimeter Control and Extreme environments. With IP67 Weatherproof Protection and a temperature range of -40 to +158 degrees, these IP Cameras are built to withstand a variety of harsh conditions.
Long Distance Monitoring & Vast View
The Teleview positioning system is vertical market product, which represents the top manufacturing ability, brought to you by Uniview. The cameras feature up to 55x optical zoom lens and smart laser IR. This allows the Cameras to see farther, and capture high quality images whether it is day or night. Meanwhile, the positioning system structure is designed to support a large vertical tilt angle from -90° to 45°, ensuring a vast panorama and incredible view. The motorized zoom lens allows for extreme zoom and auto focus.
Stable and Reliable
With the thickened aluminum alloy material, the large-sized base of Teleview positioning system enables high stability when affixed to the mounting surface. Meanwhile, the built-in gyroscope significantly helps reduce vibration and shaking of the Teleview System during outdoor high wind. The purpose of these designs is to guarantee the stability of the product and excellent image, especially in long range applications.
Easy to maintain, Easy to use
The Lighthunter Teleview Positioning system satisfies vertical market demand for reliability. Certainly, in a high importance video surveillance application you would expect advanced features. The Uniview Network Positioning System has built in self-monitoring tools to assist with camera maintenance and alert the user to fluctuation conditions. It detects abnormal voltage such as over-voltage or under-voltage, and triggers an alarm. Meanwhile, if a sudden power failure occurs, the positioning system would trigger self-locking automatically. This would involve physically locking itself to prevent sudden head down or damage the lens or components.
With the smart wiper, Teleview positioning system can clean itself automatically whenever in need. There are 7 alarm inputs and 2 alarm outputs available, so if your project involves multiple alarm devices, the Uniview Network Positioning System is up to the task. The Cameras are also embedded with gradienter to ensure the horizontal position during installation.
With its high-quality large magnification, vast angle of view, excellent stability and reliability, the professional Teleview positioning system can be applied to special scene applications. Commercial uses include borders, ports, urban roads, airports, and large industrial environments.
LightHunter Technology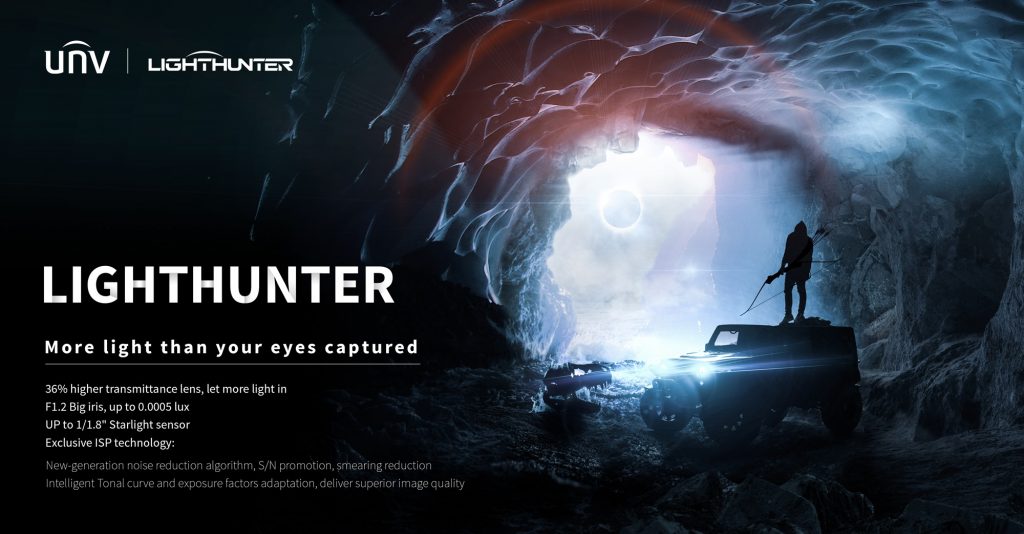 The main goal of video surveillance is to see clearly anytime and anywhere. Security Cameras need to be well prepared to provide high-resolution, and color images in a multitude of different light conditions. The LightHunter Technology is an innovative technology that delivers vivid color, appropriate brightness, and extremely clear images in ultra-low light. LightHunter Technology significantly improves the image brightness with F1.2 Large Iris design and a BSI sensor. With the specially designed, large size sensors, the IP Cameras have higher photosensitivity, and feature high SNR. UNV's uniquely patented technology called U-ISP,  improves the definition and brightness of images. U-ISP technology features a new generation of noise reduction to improve Signal-Noise Ratio and reduce blur. It effectively reduces blur with moving objects, which ensures that the image is captured more like the true scene. With the combined hardware and software advantages, LightHunter Technology guarantees extraordinary images, full of color, even under ultra-low light.
Challenges & Solution
In low-light environments, standard IR technology can achieve high-resolution, while it may lose color information and the images are black and white. The Lighthunter technology provides superior color-related information unable to be achieved with conventional cameras. More effective information about vehicles and suspects, such as the plate number, color, and brand of a vehicle; facial features, hair color, height and clothing color of a suspect may be usefully offered to law enforcement or other people in need.
Committed to solving this problem, UNV devoted significant resources to the research and development of this new ultra-low light technology. Now, LightHunter technology is available and provides unmatched detail, brightness, and realistic color, along with clear images in the ultra-low light.
BSI Sensor and High Transmittance Lens
The BSI Sony Sensor improves light utilization many times that of ordinary sensors. In addition, Lighthunter employs a High Transmittance Lens for LUX Levels of 0.0005.
U-ISP Technology
In addition, the UNV new-generation algorithm (U-ISP) has many advantages, such as reducing blur and noise, and increasing sharpness. All of these advantages improve the definition and brightness of images. As shown in the following figure, a criminal is stealing a wallet from the car. The normal IPC's image is full of snowflakes. The most obvious difference compared to the normal IPC's image, is that we see clearer and more colorful images and obtain more detailed information by the LightHunter IPC. The detailed information, such as facial features, clothing color, and plate number is easily identifiable by law enforcement.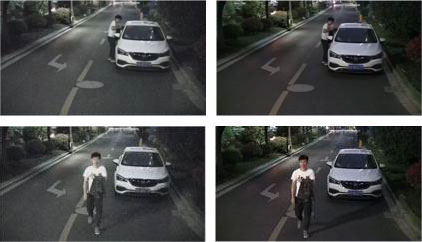 Read more about Lighthunter Technology from Uniview here:
Lighthunter Technology from Uniview
Uniview Teleview series Network Positioning Systems Applications:
Airports
Universities
Hospitals
Shopping Malls
Shipping Ports
Hotels
Infrastructure Monitoring
Processing Facilities
Borders and Perimeter Control
Large Industrial Facilities
Urban Traffic Flow
If you are looking for a Video Surveillance Solution and think the Uniview Network Positioning System can help, please call us toll-free at 877-880-7728 for more information.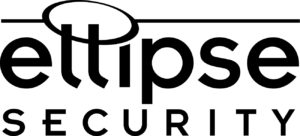 A Uniview Authorized Distributor
UNV Quick Links: