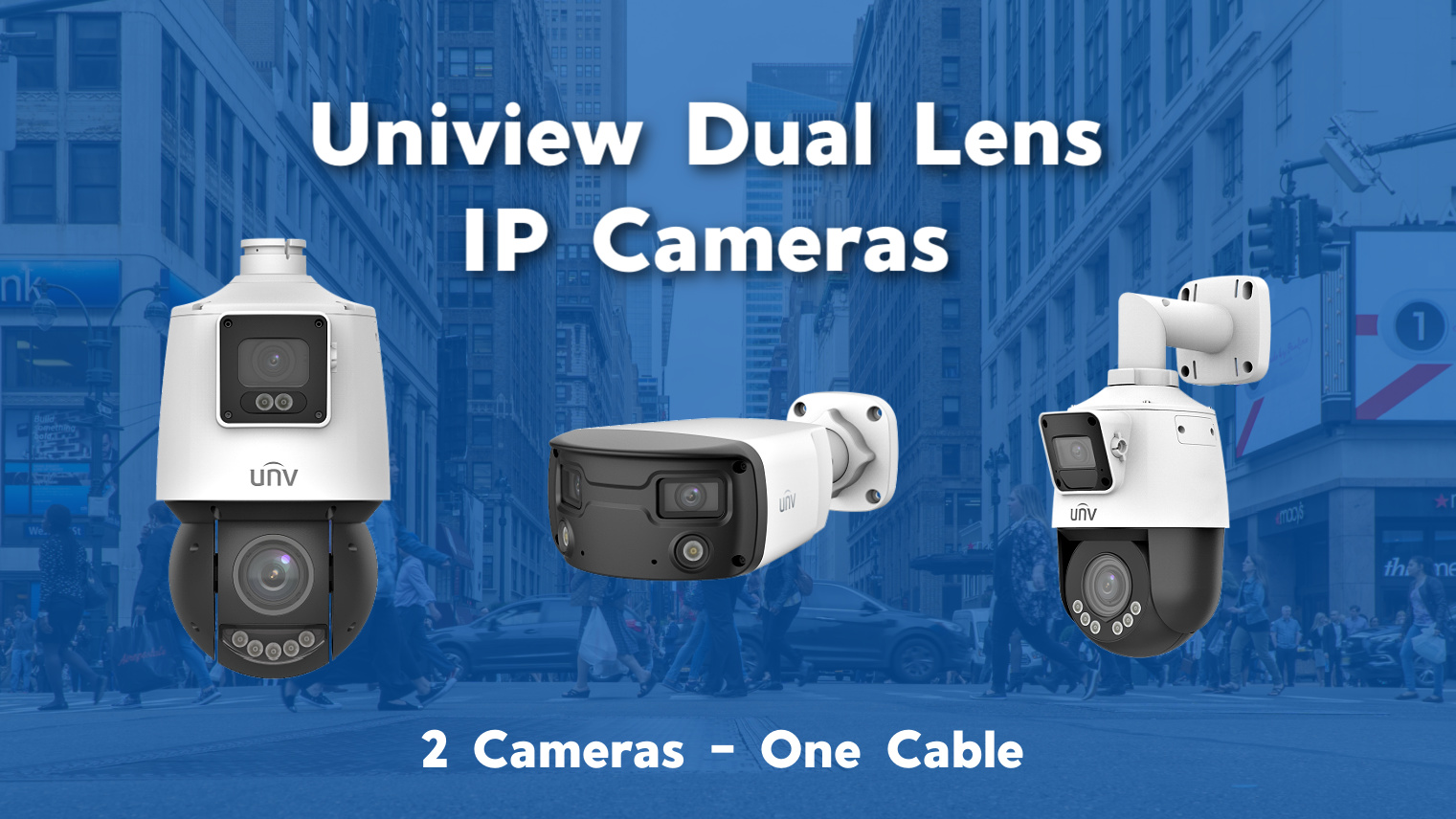 Uniview Dual Lens IP Cameras are becoming Popular
The new Uniview Dual Lens IP Cameras offer a unique set of options for enhanced coverage. Imagine the possibility of providing two images with one cable run and you will understand why we are so excited about the Dual Lens options. First off, you may ask "What is a Dual Lens Camera?" Quite simply put, it is a Camera with two lenses instead of one. However, there are multiple applications for using these cameras beyond just having two pictures. We will also include in our discussion, the IPC2K24SE-ADF40KMC-WL-I0 Dual Lens Bullet, although in this case, the two lenses are stitched together to form a 160 degree Wide Angle Image (see image below). The other current models have two lenses that can be used individually but show up on the same screen. This includes the IPC9312LFW-AF28-2X4 and the IPC94144SR-X25-F40C Dual Lens IP PTZ Cameras.
Dual Lens IP PTZ Cameras
Both images show up using just one Category Cable. You can set up the images can be set for horizontal (as pictured) vertical, or Picture in Picture. We love the display options as well as the versatility. You can image the possibility for different applications. Some clients have even set the camera up to show two different images constantly.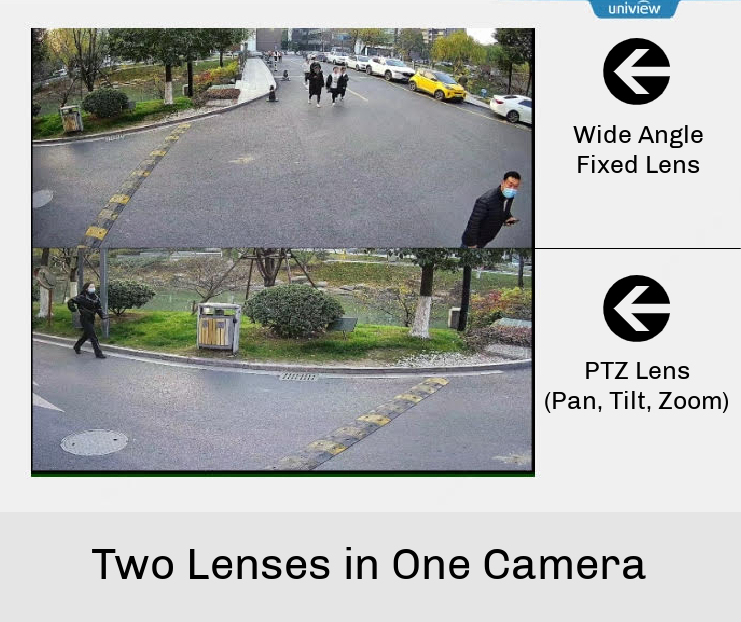 ---
The IPC9312LFW-AF28-2X4
The IPC9312LFW-AF28-2X4 is a Dual Lens, Lighthunter IP PTZ Camera with (2) 2MP Sensors. This new Lighthunter Mini PTZ from Uniview has a number of unique features you can count on to protect  your property or facility. First of all, the two lens system works in sync with a Fixed 2.8mm Lens and a PTZ (Pan, Tilt and Zoom) Lens. That means you can see your overall image on the main lens while capturing details, or tracking motion on the second lens. Even better, you can set the PTZ portion to Auto-Track, triggered by the main lens. In addition, Smart Intrusion Prevention supports Line Crossing and can be set to send alerts if someone enters or leaves an area. The camera also employs Univiews 'Lighthunter' Technology, so your images stay in color even in extremely low light levels. Another nice touch on this Dual Lens Camera is the stepped-up Two Way Audio with Dual Mics! The PTZ portion is 2.8-12mm Motorized Zoom.
The Included Mounting Bracket on this unit can be adjusted for wall mount (as pictured) or ceiling mount.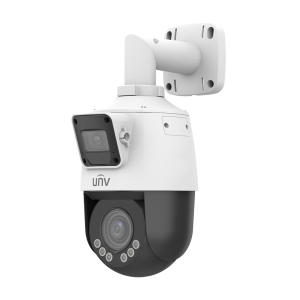 ---
The IPC94144SR-X25-F40C
The IPC94144SR-X25-F40C is another Dual Lens, Lighthunter IP PTZ Camera but with (2) 4MP Sensors. Just like the IPC9312, the two lens system works in sync with a Fixed 4.0mm Lens and a PTZ (Pan, Tilt and Zoom) Lens. Auto Tracking, SIP Functions and Lighthunter are all featured on this unit as well. However, the PTZ portion of this unit has substantial motorized zoom capabilities. You can benefit from the 4.8-120mm zoom lens and really get up close with your subjects. Of course the fixed lens continues to record the overall scene.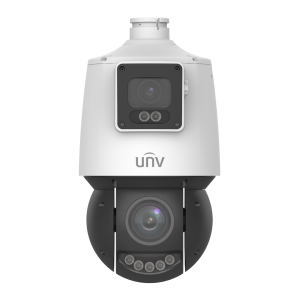 ---
Dual Lens IP Bullet Camera
So, we absolutely love this Dual IP Bullet Camera! The IPC2K24SE-ADF40KMC-WL-I0 is a 4MP Dual Lens IP Bullet Camera with Colorhunter Technology. If you need an IP Bullet that can cover a wide area than this camera fits the bill! This model is a bit different than the dual PTZ Cameras. Instead of two images, the images are spliced together. The dual lens splicing technology gives you a 160 degree viewing angle. In addition, Colorhunter Technology features a White Light LED that floods the area with light. Therefore, you get color images Day and Night! True WDR allows the Camera render more perfect images in complex scenes, which means that challenging lighting conditions are not a problem. Are you concerned about tough environments? Well, don't worry, this camera is IK10 impact rated and IP67 Weatherproof. You can also deploy it in harsh winter environments. As you can see, there are a ton of options and applications for these cameras.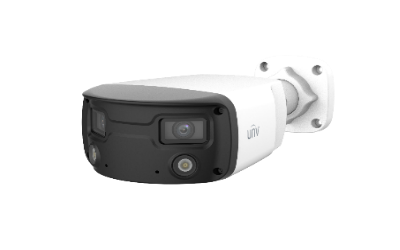 ---
Example shot for the IPC2K24SE-ADF40KMC-I0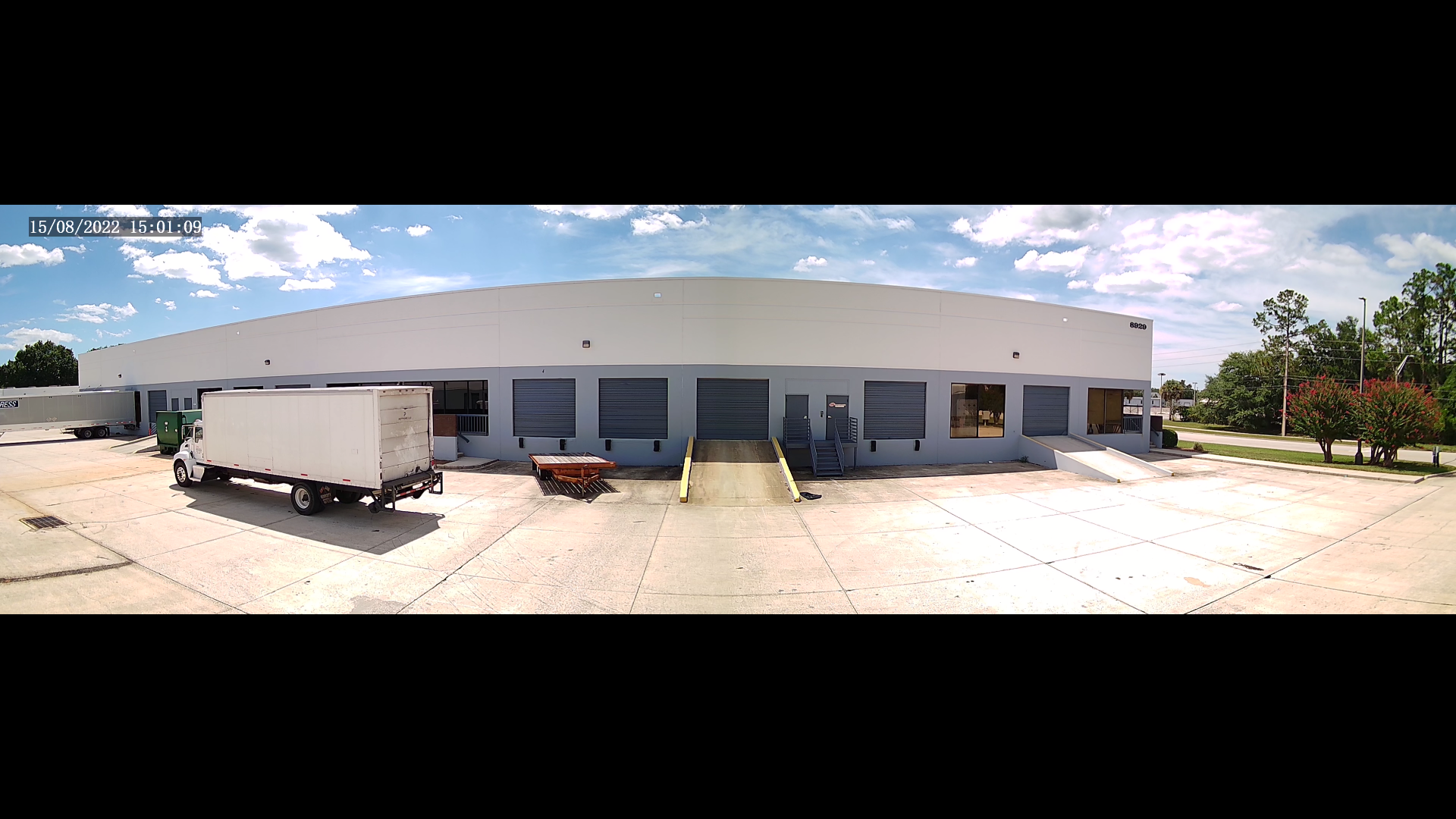 Here is an example of the Dual Lens PTZ with a defined alert area: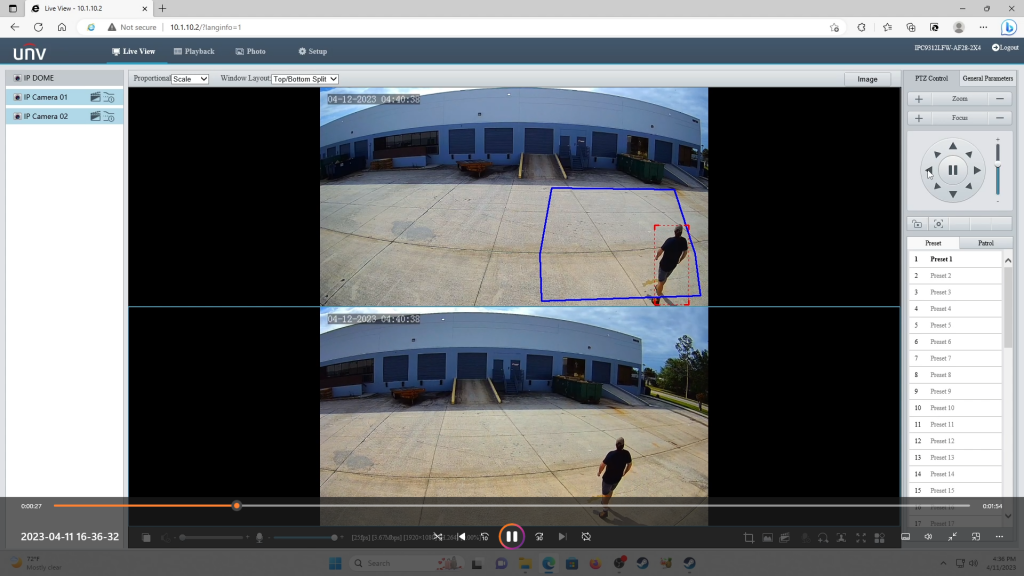 Here is an example of the PTZ on Motion Tracking: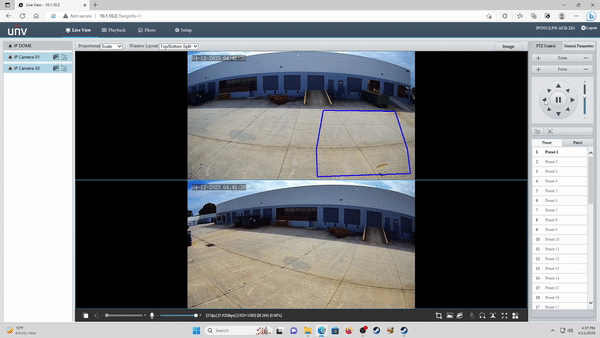 ---
More Exciting Dual Lens Options
In addition to the models listed above, we will have several more options available soon. You can keep in touch with us and we will notify you when they are released. If you enjoyed the post or want more information on Dual Lens Cameras, please let us know. Toll Free 877-880-7728
Email Newsletter Sign Up:

If you are a Systems Integrator and Install IP Cameras and/or Access Control, you should sign up to become a Dealer here!