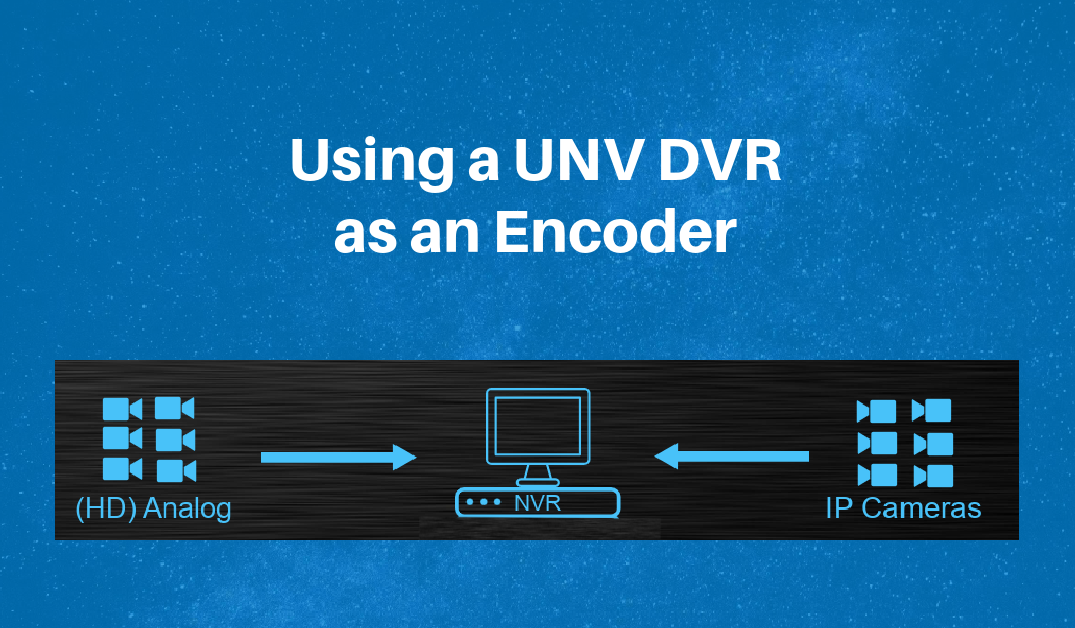 How to use a Uniview DVR as an Encoder
In this post we will discuss how to use a Uniview DVR as an Encoder for BNC/Analog cameras. As an Integrator or a Security System manager, many of you have run into a situation where a client has existing Analog (Coax) Cameras but wants to upgrade to IP. Of course, they may also want to use most or all their existing analog cameras along with the newer IP Cameras.

Since having two separate surveillance systems, with two separate logins can seem like a cumbersome proposition to your client, you probably have looked into using Video Encoders. If you have investigated the use of Video Encoders in this situation, then you have undoubtedly realized how expensive they are. In fact, in many cases, they make using legacy analog cameras and cabling almost cost prohibitive. In addition, the more cameras that need to be converted, the more expensive it gets.
Here is a different option for you.
For the sake of clarity, we will look at the following example. Let's say your client has a 16 Channel DVR with 16 Analog or HD Analog BNC Cameras. Those cameras are connected to the DVR using coax cables and may include several difficult runs. Your client wants to upgrade to IP Cameras and needs to add up to 16 IP Cameras to fully cover their facility. You can use a Uniview 16 Channel XVR in conjunction with a Uniview 32 Channel NVR to accomplish this.
Cost Savings using a Uniview DVR as an Encoder:
A Uniview XVR at around $300.00 or less, is far less than current Encoder Options. In fact, using encoders for a 16-camera application would run anywhere from $1,000.00 to $2,000.00. In addition, you will generally spend less time implementing a Uniview XVR in conjunction with a Uniview NVR, thus saving labor costs. If your client has more than 16 Analog Cameras, you can even use (2) 16 Channel UNV XVRs and a 64 Channel UNV NVR. Keep in mind, for these scenarios, both the XVR and NVR must be Uniview. An additional benefit is that the Analog cameras will have recording redundancy since the DVR is still recording as normal.
How it works: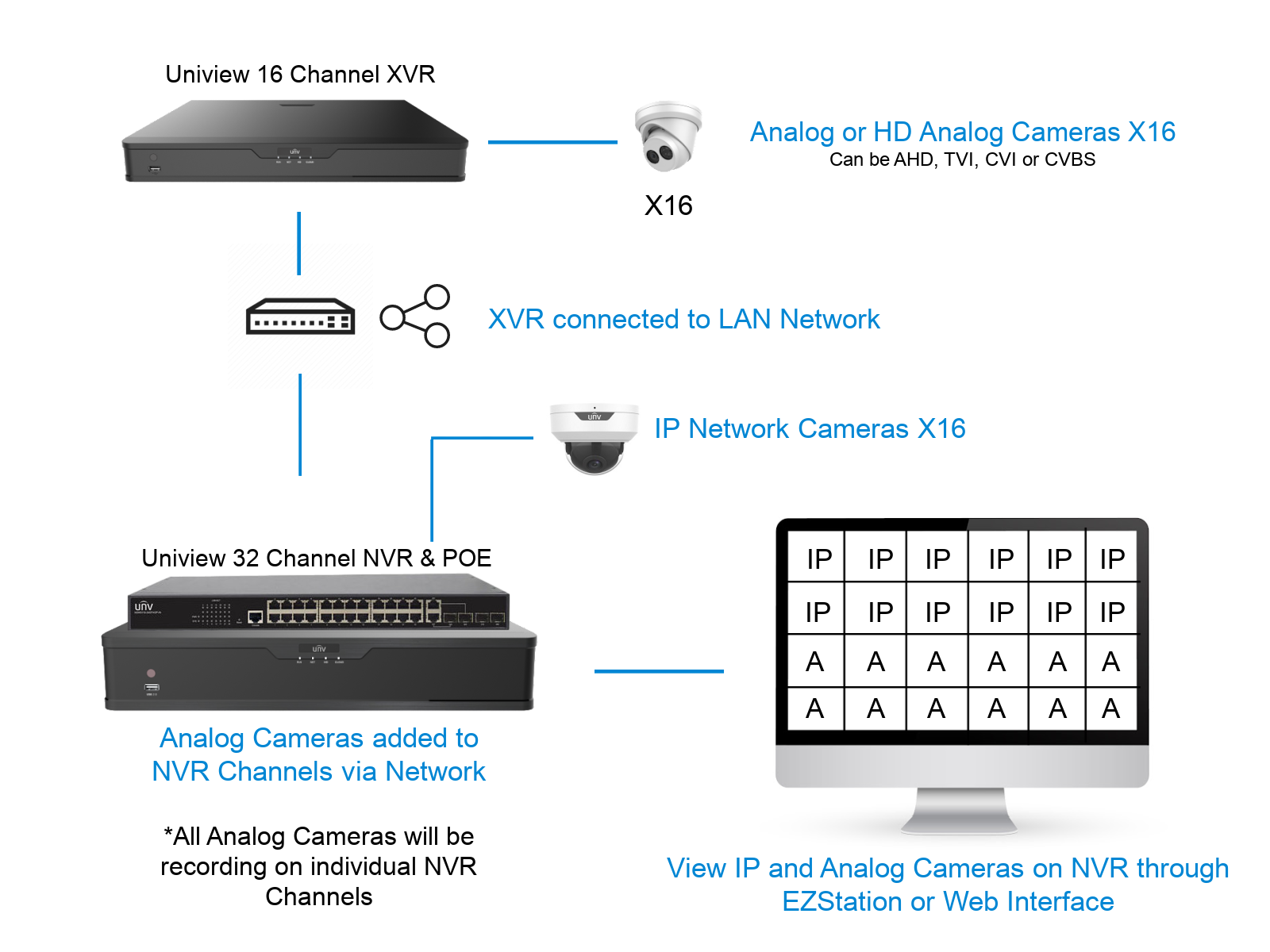 Add Coax Analog Cameras to your XVR
Set XVR up on Network
Set NVR up on Network
Add IP Cameras to PoE/NVR
Add in Analog camera from XVR to NVR using EZStation
This scenario will make your client grateful and also make them more likely to use your services as they continue to upgrade or expand. Since all of their cameras are centralized on the NVR, they will have a streamlined application and ease of operation. Also, all of the cameras will be recording on their respective NVR channels, both IP and Analog. This scenario can be used with larger applications as well by using multiple XVRs.
If you have any questions or comments, please feel free to call us at 877-880-7728.
We Love to talk to people about Security Cameras!