Different Types of Security Cameras:
Why do all these security cameras look so different? Of course there are different types of security cameras for different types of applications. Generally, some form factors are better in certain areas although sometimes it is just customer preference on which CCTV Camera is chosen. Aesthetics can come into play in offices, residential homes and Public Spaces but performance will usually take precedence when it comes right down to it. Certain features work better on certain types of cameras, such as night vision on Bullet Style CCTV Cameras. Below, we attempt to give you an overall general understanding of the common form factors available in Security Cameras.
Bullet: Bullet Style Cameras are used in many Outdoor applications. These Security Cameras allow for more significant IR illumination due to their form factor. They are easy to mount just about anywhere with the assistance of the swivel brackets and can be mounted from the top or bottom. Most Cameras sold by Ellipse include a "through-the-cable" bracket that allows the cable to disappear into the wall so it cannot be cut by vandals or thieves. Bullet Cameras are the second most popular next to Domes and have an extremely large variety of forms for almost any application. Great for Home, Commercial, Warehouses, Gas Stations, Parking Lots, Farms, and more!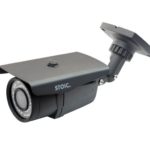 Bullet Style Cameras can come in a variety of designs.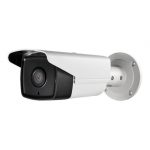 Dome:  Security Dome Style cameras come in a variety of shapes and forms and can be used indoors or outdoors as well. Domes are generally a better choice for indoor applications due to their form factor. It is generally more difficult to get long IR (night vision) ranges from dome cameras so if you need to see far away in the dark you should look for a great IR Bullet Camera. However, Security Dome cameras are the most deployed Security Camera Style. Dome Cameras can be Vandal Resistant and also 'Turret Style' Domes are very popular for the ease at which they can be installed. Dome Cameras are great for Offices, Homes, Indoor, Small Rooms, Low Ceilings, Schools, Colleges, Hallways, Gas Stations, Warehouses and MORE!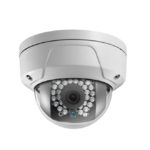 Vandal Dome Security Camera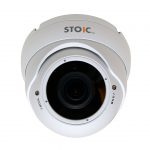 'Turret' Style Dome, also referred to as an 'Eyeball' Dome Camera
PTZ: PTZ stands for PAN, TILT, ZOOM. These cameras are great for live monitoring and can be moved automatically through DVR or NVR protocols (Like RS485 or Pelco-D). This allows covering a large area when using the PTZ and live viewing. PTZ style cameras are great for Commercial, Large Buildings, Casinos, Poker Rooms, Parking Lots, Large wide areas, and more!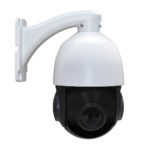 'PTZ' Style Security Camera          
Covert: Covert cameras come in an almost endless variety of forms. Covert cameras are designed for inconspicuous, 'spy' or covert surveillance. They can be extremely small like the STH-CPBC Color Pinhole Board camera or disguised as something else like the STOiC STH-CWPC which looks like a wall electrical plate. These cameras can be hard wired or wireless and even contain tiny DVR's. These 'Self Contained' DVR Cameras are also referred to as Spy or Nanny Cameras.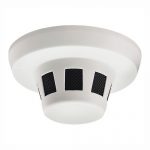 Covert Camera inside a Smoke Detector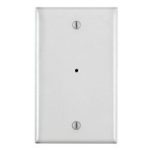 Covert Camera behind a Wall Plate Blank
Wireless: Wireless or WIFI Cameras are a growing segment of the DIY and residential market. Of course, there are several applications for Wireless or Wifi Security Cameras as you might imagine. Wireless technology is getting better and better in both the residential and commercial markets. Wireless Security Cameras are convenient and easily installed. However, they are not nearly as reliable as Hard Wired cameras due to signal issues such as strength and interference. However, sometimes they are a necessity. In general, wireless cameras are used in residential applications out of convenience and in Commercial Applications out of necessity. When considering Wireless Security Cameras, it may be best to consult an expert. Some 'Wireless Systems' have wireless video but the cameras still need power. Completely wireless systems employ current battery technology to power the cameras wirelessly as well. Although this makes installation as easy as climbing a ladder, there are many drawbacks. Batteries cannot provide enough power for significant night vision. Also, batteries will need to be changed when they lose their charge (which, of course requires a trip back up that ladder).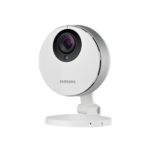 Wireless Security Camera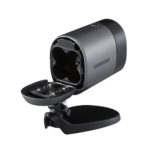 Fully Wireless Battery Operated Camera
For larger commercial applications, and certain industrial installations, there are also Explosion Protected Cameras, Thermal Cameras and many others.
Certainly these Security Camera types can be broken down even further, but this should give you a general idea about which way to go. Of course, you can mix and match many cameras on the same system as long as they are all compatible technology. For our Technology Compatibility Guide: Click Here.
Still not sure which camera or system is best for you? Call Us!
We love to talk to people about security cameras!
1-877-880-7728 Toll Free